"I just ran, as fast as I could," the young woman explains, her head held low as she sits on a plastic chair. In her hands she is gripping hard to a handkerchief, which is wet with tears. The face of the 31-year-old woman is badly swollen, on the right side she has a black eye.
The mother of three children is from El Alto, a million strong city to the west of La Paz. She has come to the capital to press charges against her husband. She says that she has been beaten and abused by him for over a decade.
Sixteen years ago the Bolivian police in La Paz opened up a drop-in center for women and families that have been the victims of violence.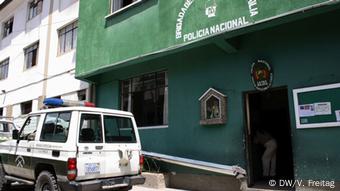 The drop-in center 'Brigada de Protección a la Familia' in La Paz
"We receive between 35 and 50 victims of domestic violence at the center per day," says Rocio Molina, who is in charge of Bolivia's special division for the protection of family.
Violence against women widespread
Between seventy and and eighty percent of women in Bolivia have been a victim of violence, according to a recent report by NGOs that work in the area.
That means the country has one of the highest rates of violence against women in all of Latin America. More than 100,000 acts of violence are registered against women each year. In most cases, it's domestic violence, which is committed by husbands or partners, or, in some cases, other male family members.
At the offices of Bolivia's Ombudsman for Human Rights, Betty Pinto works on the issue of women's rights. "The thing that worries us the most is that violence against women seems to have established itself as being something normal," Pinto told DW.
But, where does the violence against women come from in Bolivia? It's something that human rights expert Pinto believes relates to many factors.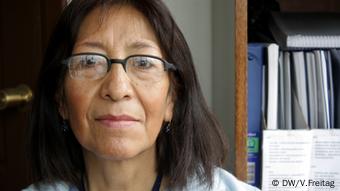 Betty Pinto has been campaigning for womens' rights for years in Bolivia
"Our education system is very patriarchal," she says. "Men are always treated more favourably." She also says that in the minds of many Bolivians a 'real' man should beat his wife or partner.
That means women are beaten, kicked and, in extreme instances, killed. The victims are often forced to wait a long time for help from the state. "On the institutional level there are way too many problem areas," Pinto says. Her experience over the last few years as the head of women's rights issues in Bolivia is that most of the charges that are brought are not followed up by the police and that in most cases, the culprits go unpunished.
A rise in instances of femicide
A major problem in Bolivia is the rising number of feminicidios, or femicides, in which a woman is murdered simply due to the fact that she is female. "In the past year we registered 150 murders of women on the basis of their sex," says Mary Marca, the Director of Center for Information and Development of Women (CIDEM). The perpetrators: husbands, partners or ex-partners, but also family members like brothers or uncles.
The victims are often killed particularly violently. Sometimes the corpses of the dead are found with their breasts or stomachs cut open. "Those are the body parts where women most clearly show their femininity," explains women's rights expert, Betty Pinto.
For years a group of organizations, including CIDEM, have been working on a new law which aims to protect the rights of females in Bolivia. Until now there has been no such regulation, but things appear to be changing.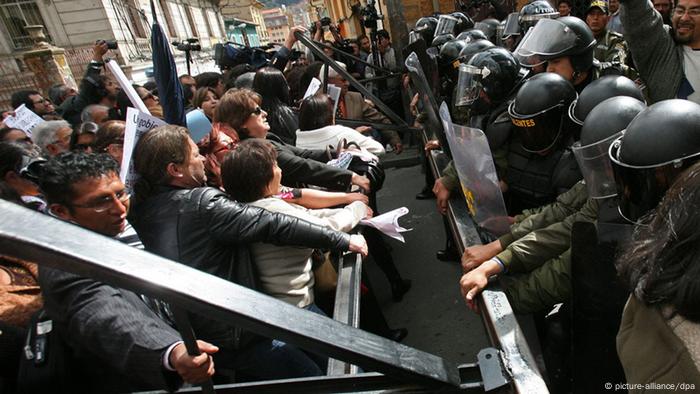 The murder of Hanalí Huaycho sparked protest marches across the country
In mid-February a high profile domestic violence case became headline news across Bolivia. Hanali Huaycho, a journalist from a national television channel was killed by her husband, a policeman. Shortly after her death it came to light that she had already made 14 complaints to police and authorities about her husband's violent behaviour. Not one of them had been investigated. In the days that followed, there were protest marches across the country, calling for better rights for women.
Success for campaigners
At the end of February both chambers of the Bolivian National Congress agreed to the new anti-violence bill. Evo Morales is set to enact the bill into law on March 8, International Women's Day. "Finally, our years of work have been rewarded with some success," says Pinto.
With the new regulations, femicide will become punishable under Bolivian criminal law. Those found guilty could land in jail for up to 30 years, even if they are under-age. Sex offenders could be incarcerated for up to 20 years.
The reforms will also lead to the involvement of specially trained lawyers and courts to deal with the violence against women. Betty Pinto hopes that women will now stand up and demand their rights so they don't have to live a life threatened by violence. "We can't wait for another murder to happen," Pinto insists.