A demonstration in Bolivia turned deadly on Wednesday when protesters raided and set fire to the mayor's office in the highlands city of El Alto.
Three women and three men inside the city hall died of asphyxiation after breathing in smoke, according to Gonzalo Fernandez, director of a hospital in the city, which is located around 15 kilometers (about 9 miles) west of La Paz.
All six of the deceased were local government workers, said the municipal government of El Alto in a statement.
Following the demonstration, protesters pushed into the city building and violently ransacked offices, destroying computers and documents before setting them on fire, the news agency ABI reported.
As firefighters arrived to put out the flames, police fired tear gas to disperse the crowd. Photos from local media sources showed city workers climbing onto the roofs of neighboring buildings, while others called for help from the burning building's terrace.
The demonstration was held by a group of fathers who were demanding better school buildings for their children's education, since many are taught in tents.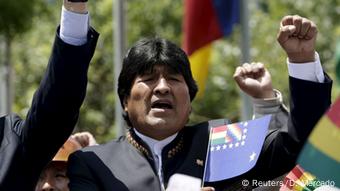 Political tensions in Bolivia are high as voters will soon decide if President Evo Morales can run for a fourth term
Tensions ahead of referendum
The local government claimed that the protesters have links to Bolivian President Evo Morales' socialist party.
"They came in ... to burn files relating to cases against former public officials of the MAS," Mayor Soledad Chapeton told reporters, referring to the ruling socialist party.
El Alto is currently governed by the opposition party.
Others accused El Alto's government of throwing boiling water on the protesters and prompting the tragic outburst of violence. "It is a plan orchestrated inside the local government," said Marcelo Elio, a home office deputy minister.
Tensions are running high in the country ahead of Sunday's national referendum, which will ask Bolivians if they want to change the constitution in order to allow Morales to run for a fourth term.
The country is torn between Morales' supporters, who approve of his use of natural gas to tackle poverty in the country, and his opponents, who accuse his government of corruption and waste.
rs/cmk (AP, AFP, dpa)