A interview published Wednesday in an Arabic-language magazine said to be linked to IS introduced Nigerian militant Abu Musab al-Barnawi as Boko Haram's new leader.
This prompted the group's elusive long time chief, Abubakar Shekau, to break his silence for the first time in months. He released an audio message on Thursday insisting he was still in charge. "We are still in the cause of Allah and will never depart in the struggle to establish an Islamic caliphate," Shekau said in the 10 minute recording. Experts have confirmed the voice is Shekau's. Sahara Reporters published a full translation of the message.
Different loyalties
A split within the group has been developing for the past few months, says DW's northern Nigeria correspondent Muhammad Al Amin. But the interview with al-Banarwi and Shekau's audio message have brought the division out in the open.
Unconfirmed local reports suggest that fighting has already broken out between militants loyal to al-Banarwi and those allied to Shekau, says Al Amin.
Shehu Umar, a security analyst from northern Nigeria, told DW that the leadership crisis could be a chance for the Nigerian government to further curtail the terrorist group. "This is a golden opportunity for Nigerian intelligence," he said. Counterterrorism operations, set in motion by President Muhamadu Buhari, have succeded in reducing the number of Boko Haram attacks in the country.
Pledge of allegiance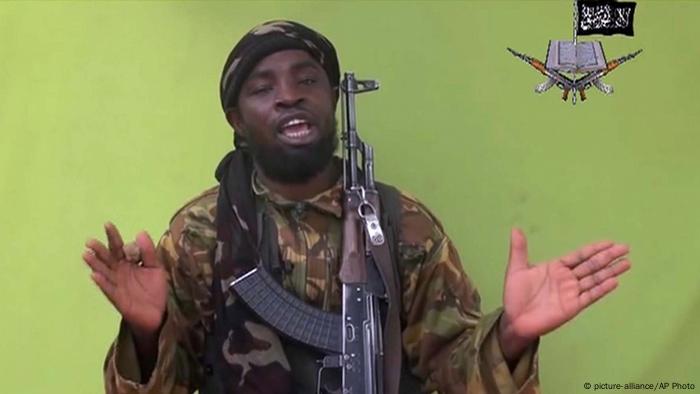 Shekau had been silent so long, some even suspected he was dead
Shekau, who has led Boko Haram since 2009, declared the Nigerian militant group's allegiance to IS in March 2015. At that time, Shekau announced that Boko Haram should be known as the Islamic State's West Africa Province.
South African security analyst Ryan Cummings told DW that co-operation between the jihadi groups could be purely nominal. "We have no evidence that Islamic State has been providing any form of logistical or operational patronage to Boko Haram," he said.
Shekau led the group in an insurgency that has left 20,000 people dead and forced 2.6 million people to flee their homes. A Nigerian security analyst told the news agency AFP on Wednesday that Shekau was seen as disorganised and unreliable, and that IS's announcement of a new leader may be an attempt to clean up Boko Haram's reputation among jihadists.
Conflicting ideologies
The group's barbaric actions under Shekau's leadership sparked a breakaway faction, Ansaru. Al-Barnawi is said to be allied to Ansaru, which split from Boko Haram in 2012 because it disagrees with the indiscriminate killing of civilians, especially Muslims.
In Wednesday's interview, Al Barnawi said he would end attacks on mosques and markets used by ordinary Muslims, instead threatening to kill Christians and bomb churches.
Varying concern
That's no reassurance to people living in the areas affected by Boko Haram's insurgency, which has spread from Northern Nigeria to parts of Cameroon, Chad and Niger.
"Even if they say they will not be attacking mosques, people are not going to believe it, because they know how dangerous this group is," says DW correspondent Al-Amin.
But for many Nigerians, Boko Haram's leadership battle is not hugely worrying. The crackdown by the Nigerian government and military has made significant progress in weakening the group. Most citizens believe the group no longer has the power to attack on the same scale as it has in the past.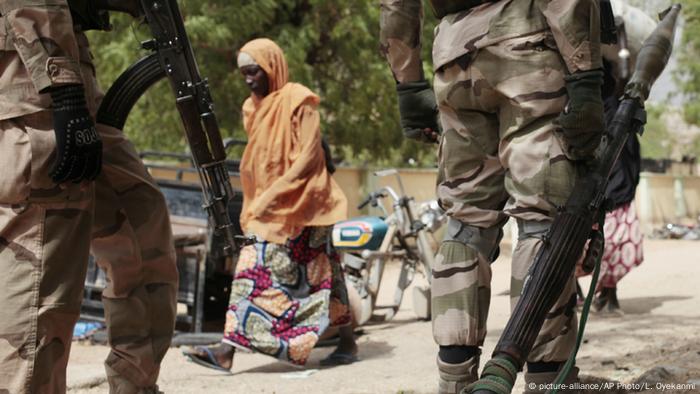 The Nigerian military has liberated several areas in the country's north from Boko Haram control
Weaker than ever
The Nigerian military, which has retaken most of the land captured by Boko Haram in 2014, told the Nigerian news agency NAP that the news of the group's new leader was just a cry for attention from a severely weakened organization.
"We are seeing a group that has lost a lot of territory, they have seen a number of their key figures arrested, they are also facing a more coordinated war effort against their positions," said analyst Cummings.
Unpredictable evolution
Still, the current developments are a reminder of the unpredictability of the jihadist group which has spread terror across West Africa in recent years.
"With Boko Haram, even when the group appears to be on the decline, they have often just evolved in terms of the prevailing circumstances and shown that they are still able to provide quite a significant threat in the theatre in which they operate," Cummings said.