"The winner of the German Book Prize 2016 is Bodo Kirchhoff. He receives the honor for his novel, 'Widerfahrnis,'" Heinrich Riethmüller of the Foundation of the German Publishers and the Booksellers Association said in Frankfurt on Monday evening.
Riethmüller justified the jury's decision, saying Kirchhoff's novel was a "multilayered text that masterfully weaves together the existential questions of private and political life."
Speaking on the occasion, the overjoyed author said, "It is wonderful that I can stand here today. I never ever dreamed that I would win this kind of a prize."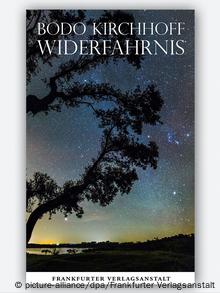 Bodo Kirchhoff's novel is set in Italy
But Kirchhoff admitted he did think about receiving the award a couple of times, but his thoughts on those occasions were "peppered with superstition." An avid football fan and a supporter of his home city Frankfurt's football team, Kirchhoff admitted to thinking that Eintracht Frankfurt's 2-0 victory against Bayer Leverkusen in the Bundesliga match last month might be a sign that he'd win this year's prize. Frankfurt's form didn't dip in the run-up to the decision either, culminating in a 2-2 draw with champions Bayern Munich on Saturday.
Looking for happiness
"Widerfahrnis" is an uncommon word - even in German - and means "encounter." Kirchhoff himself heard it only around five years ago and immediately decided to use it as the title for a novel. However, he found it difficult to weave a story around the name until many years later, he told the audience.
The novel tells the story of two people, who don't have an aim in life. They are driven to Italy by their lust for love, red wine and adventure. They pick up a young woman vagabond on their journey, who triggers memories of loss, parenthood and the desire for a new beginning in them.
The book tells the story of "two melancholy people searching for happiness" who come across others going in the opposite direction of their lives, according to the German association of publishers and booksellers.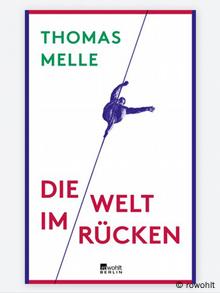 Melle's book, which made it to the shortlist - is an account of manic depression, a condition the author himself suffers from
"Widerfahrnis" was chosen from a shortlist of six books, including Reinhard Kaiser Mühlecker's "Fremde Seele, dunkler Wald " [Dark forest, foreign soul], Andre Kubiczek's "Skizze eines Sommers" (A sketch of summer), Thomas Melle's "Die Welt im Rücken" (The world at your back), Eva Schmidt's "Ein langes Jahr" (A long year) and Philipp Winkler's "Hool".
A driver for business
The German Book Prize, launched in 2005, was established in the wake of what had been a few tough years for booksellers. Something new was needed, something that would be a driver for the business.
The German Publishers and Booksellers association established a prize that would focus the spotlight on an individual novel, rather than the entire work of one author - something that had already been done in Germany through the renowned Büchner Prize.

The English-language Man Booker Prize and the French Prix Goncourt were the role models, and large sponsors like the Deutsche Bank Foundation were brought on board. A total of 37,500 euros ($41,800) is put into the pot every year - 25,000 euros for the winner and 2,500 euros each for the other five shortlisted candidates.