Local officials said some of the bodies had been dumped with their hands and feet bound, while others were hacked up and placed in plastic bags.
The grisly discovery came just hours after the dismembered bodies of three other men were found in five plastic bags on a roadside near the town of Teloloapan, in another part of Guerrero state.
Also on Sunday, two other bodies were discovered near the Pacific coast port city of Acapulco. One belonged to an off-duty member of the navy.
"This event shows that there is a strong a strong battle between rival criminal groups who use extreme violence," Roberto Alvarez, Guerrero, state security spokesman, said following Sunday's gruesome find.
Alvarez was referring to two drug cartels that operate in the poor, hyper-violent state which has been the scene of brutal drug cartel slayings.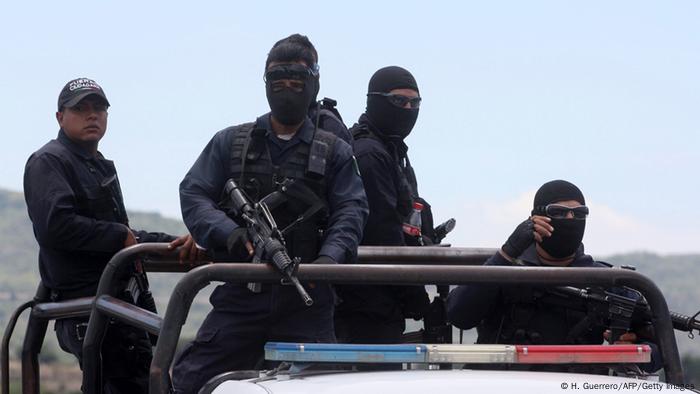 Over the past decade, the government has deployed troops to combat drug cartels
Guerrero, in the southwest of the country, is the murder capital of Mexico, where deadly cartels are fighting over heroin and crystal meth trafficking routes. The area often sees turf battles between the Ardillos and the Rojos gangs.
On Saturday, ten people were kidnapped by a group of armed men in the same state. The captors were suspected to be members of the Los Tequileros gang, which had carried out several kidnappings in recent months for ransom.
In 2014, 43 student teachers went missing in Guerrero during a protest. An official investigation found that the students were handed over to a crime syndicate by police and then murdered.
Their disappearance sparked a major human rights crisis for President Enrique Pena Nieto, whose popularity has sunk to fresh lows over his handling of the economy, rising violence and perceptions of corruption.
mm/bw (AFP, Reuters)