Just 13 days after it breached the $6,000 (€5,156.40)mark, the price of Bitcoin has hit $6,591, the digital currency website CoinDesk has reported.
The London-based publication said the cryptocurrency achieved the new record on Wednesday, boosted by bets the crypto-currency might enter the financial mainstream after the world's largest derivatives exchange operator said on Tuesday it would launch bitcoin futures.
CoinDesk said the digital currency had climbed more than 500 percent over the past 12 months, having been priced just below $1,000 on January 1.
Read more:Bitcoin: Paying with the cryptocurrency
A growing number of analysts now believe that Bitcoin will likely see a price correction following this year's incredible run-up.
2017 has been a rollercoaster year for the digital payment system. In September, its value plummeted by more than a third, less than two weeks after reaching $5,000, but before going on to make a new high of $6,183 on October 21.
The sudden drop in value was attributed to China banning initial offerings of other cryptocurrencies and the use of Bitcoin exchanges.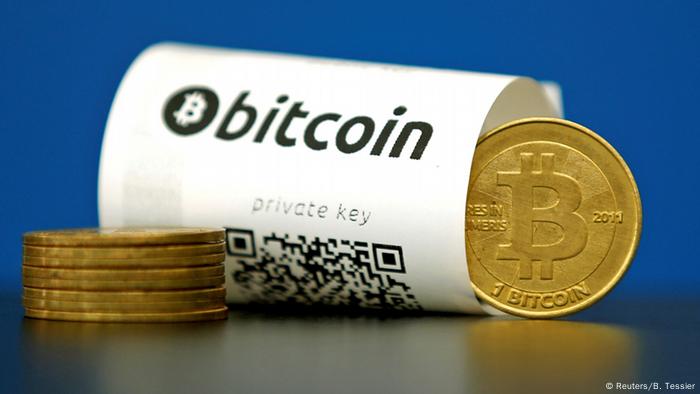 Bitcoin was the world's best performing currency in 2016 and has grown dramatically again this year
The buzz around Bitcoin has led to the launch of more than 80 digital currency hedge funds and even a Gold coin offshoot.
But still, most institutional investors remain on the sidelines, many of whom view the estimated 900 cryptocurrencies as opaque products that are too volatile and too illiquid to risk other people's money on.
"While cryptocurrencies are probably here to stay, they are difficult to analyze, wildly volatile and some may be prone to fraud," Trevor Greetham at Royal London Asset Management (RLAM), part of the Royal London life insurance company, told Reuters.
Recently, legendary US investor Warren Buffett warned that the digital currency was in "a real bubble." A few days earlier, Saudi prince Alwaleed bin Talal likened Bitcoin to energy firm Enron, which went bankrupt in 2001 and has since become an example of wilful corporate fraud and corruption.
Read more:Bitcoin slides on stern warning from JPMorgan CEO
When it launched in 2009, Bitcoin was worth only a few US cents. Today, its total value is more than $103 billion, bigger than US investment bank Morgan Stanley.

Despite not being backed by any central bank or government, Bitcoin's sudden rise has led to fans taking huge risks to profit from its apparent good fortune.
Dutchman Didi Taihuttu revealed two weeks ago that he sold virtually everything he and his family own - including a business and their home. They've invested the proceeds in the virtual currency.
He estimated that Bitcoin would "probably be worth $25,000" by 2020.
Last week, Russia moved to regulate digital currencies like Bitcoin, citing booming demand. Moscow will draft legislation that defines the rules that creators of virtual money will have to play by. They will also be required to register and pay taxes to the Russian state.
mm/uhe (AFP, Reuters)