Germany's biggest pumpkin was crowned on Sunday, weighing in just shy of 800 kilograms (1764 pounds).
At the annual Pumpkin Festival in Ludwigsburg in southern Germany, a team from Bavaria took first place with a pumpkin weighing 792.5 kilograms.
Second place went to a 644 kilogram gourd grown by a team from Hesse. The weigh-ins took place in Germany's biggest Baroque town in the state of Baden-Württemberg.
11 sure signs autumn has arrived in Germany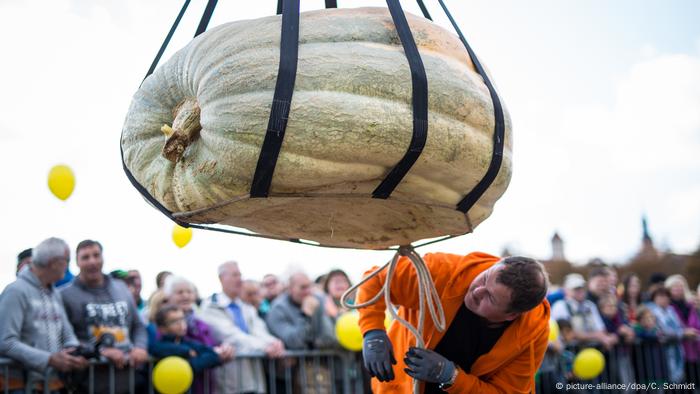 It took three people and a forklift to lift the colossus
Other things that weigh about 800 kilograms:
- One cow
- Three pigs
- One blue whale heart
- Half a car
- 9,323 bratwurst
- 610 pairs of lederhosen
- 8 giant cold coins
While impressively huge, neither pumpkin came close to the German record of 901 kilograms, awarded at the festival last year.
Grower Peter Bohnert spends six hours a day on his hobby and has competed at the competition for years. "It starts at the beginning of the year, with internet auctions for the best pumpkin seeds," he told the Deutsche Presse-Agentur news agency. At such auctions growers can pay several hundred euros for a single seed from a previous winner.
The plants emerge in May and are constantly irrigated and cultivated.
The winners of Sundays contest qualify for the European Championships on October 8, also in Ludwigsburg.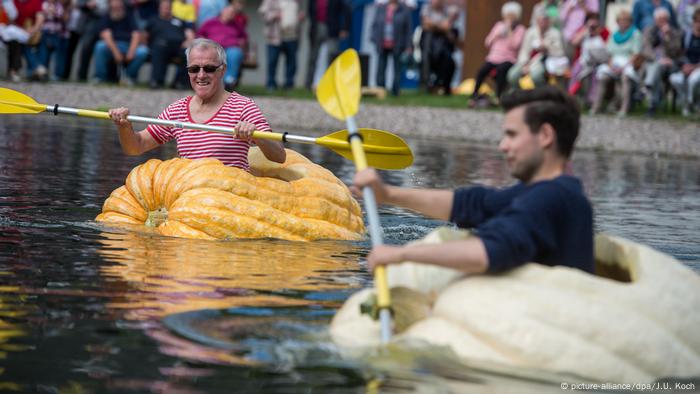 Other events include pumpkin kayaking
The winning pumpkins will be cut up and distributed to next week's festival visitors.
Poor weather conditions have contributed to small specimens in recent years, leading to greenhouse pumpkins reportedly faring the best.
Pumpkins are well in season in Germany with supermarkets and food markets flooded with various varieties.
Other events at the Pumpkin Festival include pumpkin carving, a display of more than 800 varieties grown in the lead-up to the festival, Germany's biggest pumpkin soup, a pumpkin canoe regatta and pumpkin cooking.