US Vice President Joe Biden told NATO that the situation in Afghanistan was a threat to the West as a whole.
"The deteriorating situation in the region poses a security threat not just to the United States but to every single nation round this table," Biden told representatives of the 26-nation military alliance during a visit to Brussels on Tuesday, March 10.
"It was from the very same mountains that the attacks of 9/11 were planned," he said, adding that NATO should seek "pragmatic solutions" to its war in Afghanistan.
Biden said options included direct talks with moderate factions of the Taliban, most of whom are only involved in the insurgency for the money.
"We are not now winning the war, but the war is far from lost," Biden told a news conference after three hours of talks.
Afghan President Hamid Karzai said his government had long supported dialogue with those members of the Taliban, who are not connected with "terrorists."
Election security boost needed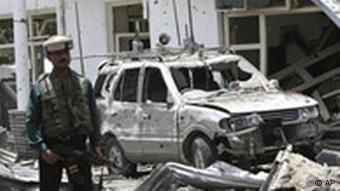 Security has worsened in Afghanistan as the Taliban regroups
NATO Secretary General Jaap de Hoop Scheffer called on NATO to boost efforts before Afghan elections due in August.
"It is important that this alliance delivers in the short-term," Scheffer told reporters, saying that the meeting with Biden had been "very productive."
Biden's visit comes as US President Barack Obama pushes for a fresh strategy to fight the insurgency in Afghanistan with more international support. The US vice president stressed that the purpose of his trip was to listen to Washington's European allies.
"When we consult, we get the type of consensus that our political leadership needs," Biden said. "Absent that kind of cohesion, it will be incredibly more difficult to meet the common threats we are going to face."
Biden will be meeting with senior European Union officials at EU headquarters in Brussels later on Tuesday.
Biden looking for concrete help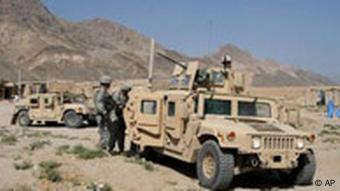 The US has boosted the number of troops in Afghanistan
The visit of Obama's second in command comes less than a week after a trip by US Secretary of State Hillary Rodham Clinton, who attended a NATO foreign ministers' meeting last Thursday and met the European Union's foreign policy heads on Friday.
"This is not just lip service, the idea of consultation, we mean it, and in return we want concrete ideas and concrete assistance," a senior Obama administration official told AFP news agency on condition of anonymity.
Violence in Afghanistan was at its worst level in 2008 since the ouster of the Taliban regime seven years ago.
Obama is reviewing how NATO's mission in Afghanistan can turn the tide in the volatile south of the country, which has seen a steady rise in fighting and losses for US and allied countries.
Obama has ordered an interagency review to examine US policy on Afghanistan and Pakistan before a NATO summit in April. Former CIA official Bruce Riedel, now a senior fellow at the Brookings Institution think tank in Washington, is heading the review.
In addition to vowing to end US combat operations in Iraq by August 2010, he has also ordered the deployment of 17,000 troops to Afghanistan, saying they were needed to stabilize a deteriorating security situation.
Call for more troops will fall on deaf ears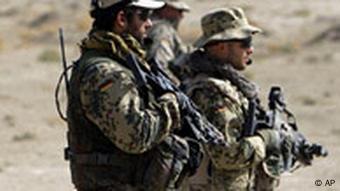 Germany is one of the nations under pressure to send more troops to Afghanistan
European allies expect the US to demand more troops for the war in Afghanistan, and urge allies to remove restrictions on where their soldiers can fight.
But some major NATO partners have made clear that they are not in a position to send more soldiers into Afghanistan, so top US officials have recently been stressing the need to boost political and development components of the Afghan mission.
"The United States recognizes that not all of our allies can contribute troops but we appreciate other forms of assistance equally," the senior official, quoted by AFP, said.
"If you don't like US policies, and obviously that's been an issue in the past, we will want your concrete ideas about what we should be doing in Afghanistan, and not just criticism," the official said.