DW: Bibiana Steinhaus, what is it that you love about football?
Bibiana Steinhaus: I love the passion that drives the people involved. I love the dynamism, the speed, the emotions.
What is your main challenge as a Bundesliga referee?
The main challenge in refereeing is controlling 22 totally different players within a certain number of square meters while being watched by a lot of spectators in the stadium and at home and under the microscope of television and the media.
It's my job to guide them through the 90 minutes and ensure that the laws of the game are adhered to. I have to ensure that challenges are fair, that the result of the game reflects the performance of the players and nothing else.
I think what I like most is managing so many different types of people, on the pitch and around it. Communicating with different characters is probably the biggest challenge but I love doing it. It's a lot of fun!
Refereeing is a physical challenge. Do you think people forget that referees are athletes, too?
As a referee you are obviously a sportsperson. You run up to 12 kilometers (7.5 miles) during a match and you don't do it at a consistent pace either. You're constantly stopping and starting and changing direction. Your heartbeat keeps increasing and after 90 minutes, when your body is exhausted, you still have to be mentally prepared to make a decision – a big decision, a huge decision – which could cost a team a lot of money at the end of the day. You have to be 100 percent fit, both mentally and physically.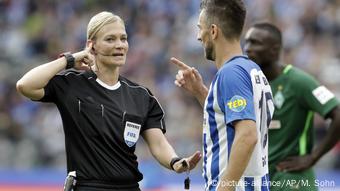 Steinhaus has also had the added complication this season of helping to trial the video assistant review system
How do you command the respect of all the players?
The recipe for respect is to treat people the way you would like to be treated. You don't need to scream and shout to get a job done. Communication is key. You must be polite, helpful and straight forward. If you can do this, I think you're on the right path.
I know you don't really like the gender topic but we have to talk about it because that's what people are interested in. Do you think female referees have any advantages over male referees?
As you say, I don't really like the gender topic when it comes to refereeing I understand that it's a topic for people around me. At the end of the day, the performance is what matters. And the person producing the best performance should be the person on the pitch, no matter what gender, what hair color, what religion. That's all that counts.
There are not many female referees in German football. There is only one other, and she is in the second division. Do you think this will change anytime soon?
In Germany we have about 80,000 referees in total and 3,000 of them are female. We have 24 officials refereeing in the Bundesliga and I'm the only female official. But we also have an assistant referee in the second division, Katrin Rafalski, who is doing a great job. Riem Hussein is in the third division. These women are showing that it's not about being female or male; it's about performance. I really hope this is a good example for young girls to do the same.
Is Germany a pioneering country for female refereeing? What is the situation like worldwide?
The Bundesliga is one of the world's most respected leagues, so having a female official here is a big step in general for female officials. But there are good female officials around the world. At the U17 World Cup in India a few weeks ago, seven females were appointed as fourth officials. That was an international tournament with teams from all over the world.
We have a lot of good leagues in Europe, even in smaller countries, where female referees are officiating. It's not even a topic because they are doing a great job. And that's precisely what we want; to be judged by our performances on the pitch.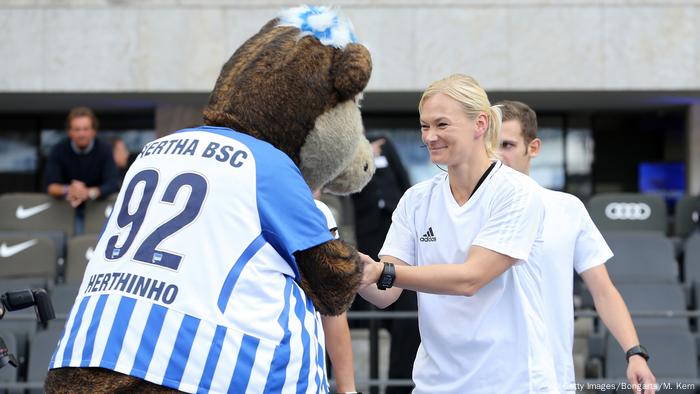 Steinhaus was given a special welcome before her first Bundesliga game
Is your way of handling the gender issue simply to ignore it?
I don't want to underline the gender discussion, I want to have a performance discussion. I want to inspire people to do whatever they want, whether that's leading a country, flying to the moon, whatever. Both sexes have great possibilities and that's a value I stand for. I am happy that Germany is quite far ahead in this respect. Scandinavian countries are even more advanced.
You've made quite a few headlines this season. One of my favorites was: "The referee wants you to look at the game, not her." So what did you think about the headiline "Bibi ist die Beste!" (Bibi is the best!) that appeared in the newspaper BILD after your first Bundesliga game?
Generally speaking, I don't like headlines about referees because that means you have been the focus of the game, and that is definitely not a good thing. Headlines are not good for referees!
But of course, with my promotion to the Bundesliga there have been a few headlines around the world about female officials. I like the headlines that discuss the performance, not the fact that I'm a female official. I'm doing the same job as all the others. In fact, my favorite headline was after my second Bundesliga game because there was no headline at all. That's definitely a step forward!
You are a police officer as well. Are there any similarities between being a police officer and a referee?
Being a cop and being a referee is very similar because you always have to deal with two different sides from a neutral point of view. We don't make the laws but it's our job to make sure they are enforced and that people behave accordingly.
Do you think some men can feel humiliated by having their match refereed by a female official? Have you ever experienced people who don't respect you as a female police officer?
I can understand why people could feel like that but then it's the official's duty to communicate clearly what the situation is and what the next step will be without anybody losing face. Sometimes it takes a little time to earn the respect of the people you work with but, at the end of the day, the police officer or the referee is the one who makes the decisions. Here, at the very latest, people understand who's in charge.
What advice would you give young girls and boys who want to become referees?
I would give the same advice to anybody out there regardless of their age or gender and that is: enjoy being out there. Enjoy making decisions. Enjoy dealing with different personalities. But also learn how to live with misjudgements. This applies not only to refereeing and sports in general but also to real life! Football is a great sport and a great challenge. So get out there, grab a whistle and enjoy what you do!
Bibiana Steinhaus, 38, is a German police officer and football referee. On September 10, 2017, she became the first-ever woman to take charge of a Bundesliga match when she refereed the game between Hertha Berlin and Werder Bremen. She has also refereed the German Women'' Cup Final (2003), the Women's World Cup Final (2011), the Olympic Women's Football Final (2012) and the Women's Champions League Final (2017).
The interview was conducted by Jana Schäfer