Many will remember him as having penned the book "The Name of the Rose;" perhaps even more people were gripped by the film, starring Sean Connery. Both narratives unlock medieval history through fast-paced, intricately-plotted storytelling and literary somersaulting referencing other world-class scribes, such as Jorge Luis Borges, and detective protagonists like Sherlock Holmes. The book, released in 1980, became a best seller, turning over millions of copies around the world and catapulting Umberto Eco to literary fame.
"Since I'm a book person, I write about books," Eco told German weekly Die Zeit.
That book, "The Name of the Rose," was the writer's first novel and came relatively late in life - at nearly age 50. Yet it likely couldn't have been written - or at least not in that way - had Eco not made an impressive academic career for himself beforehand.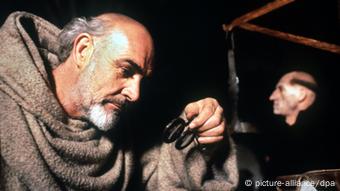 Sean Connery plays a Franciscan monk in "The Name of the Rose"
All a matter of interpretation
Born on January 5, 1932 in Alessandria, northern Italy, the son of an accountant studied medieval philosophy and literature at the University of Turin, earning his laurea degree in philosophy in 1954. Following service in the Italian Army, he worked for the Italian public broadcaster RAI, before becoming a senior editor at a Milan publishing house.
Over the next few decades, Eco would go on to write and edit countless scholarly books, essays and columns on mass media and culture, semiotics (the study of signs and symbols), aesthetics and literary criticism. He is famous for his notion of the "open work," which postulates that literary texts compose fields of meaning, rather than unequivocal, linear narratives of thought - lending them more space for diverse interpretation.
All of that work likely informed the labyrinthine murder mystery "The Name of the Rose," which, among other things, analyzes texts and symbols in a medieval religious context. Five novels have followed, including "Foucault's Pendulum" and "The Island of the Day Before." His latest, "The Prague Cemetery," published in 2010, freewheels through everything from conspiracy theories to anti-Semitism.
Those untold stories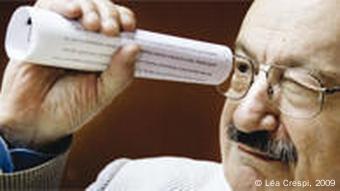 Eco: Always looking for hidden meaning
Having held professor posts at top universities around the world, including Harvard, Yale, Columbia and Oxford, as well as at the University of Bologna, Eco stopped teaching in 2007. He has received more than 35 honorary doctor titles. He has also been an outspoken critic of former Italian Silvio Prime Minister Berlusconi.
Despite the tens of thousands of books in his private library named "Biblioteca Semiologia Curiosita Lunatica Magica Emblematica" in Milan, it would be the telephone book - the White Pages, that Eco would want with him if he were ever stranded on a deserted island. "All those names in the book that would whisper their stories to me," he once told the German daily Frankfurter Allgemeine Zeitung in an interview.
Umberto Eco has been married to German Renate Ramge since 1962 and has two children.
Author: Louisa Schaefer (dpa, epd)
Editor: Kate Bowen