Implying that he sold the club for less than its market worth, Berlusconi told reporters Tuesday: "I accepted what was offered to me, which does not even take into account the importance of the brand."
The 79-year-old media mogul did not name the investor as he left hospital following open-heart surgery, but said it was a "Chinese company with public capital."
Italian media speculated that the buyer could be Jack Ma, one of the wealthiest men in the world and founder of Chinese e-commerce giant Alibaba.
Fininvest, the Berlusconi family holding company that owns AC Milan, entered exclusive talks with the consortium in May, after the club posted a loss of 93.5 million euros last year.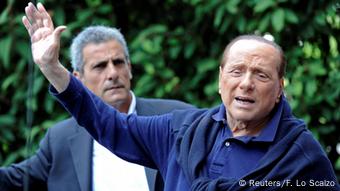 A frail-looking Berlusconi left hospital on Tuesday
Reports say the deal values the club at 700-750 million euros ($775-, including debt. The sale agreement is expected to be completed by July 15 at the latest, which would see the consortium buy 80 percent immediately and then take full control at a later date.
"I demanded the new owners commit to invest at least 400 million euros (about $450 million) in AC Milan over the next two years," Berlusconi added.
The Italian billionaire has owned AC Milan since 1986 but has previously said the club needs new capital to help it compete with top European clubs, many of which are now bankrolled by Gulf and Asian owners.
"I believe this final decision is important, to hand Milan over to those able to make it a key player once more in Italy, Europe and the world."
Following his announcement, fans took to social media to discuss the sale, with many welcoming the new investment.
The deal comes just weeks after a 70 percent stake in local rival club Inter Milan was sold to Chinese electronics retailer Suning Commerce Group Co Ltd.
Last year, Thai businessman Bee Taechaubol was linked to a majority stake in AC Milan but Berlusconi reportedly changed his mind at the last minute.
mm/jr (AFP, Reuters)