Waiting for a train recently, I found myself staring at a poster showing the face of an older man - his skin was scored with deep wrinkles, his beard long and gray, his hair straggly beneath a woolen hat.
The slogan above his over-sized image, which translates to something along the lines of "Berlin is looking when others turn away," make him the poster man for an appeal for help and a thank you to those already engaged in socially minded activities.
But how many Berliners, who let's face it, are well known for their rudeness, are actually involved in acts of selflessness?
Official statistics put the number of people lending a hand at about 850,000, which means roughly a quarter do their bit for society by shopping for the elderly, translating for refugees, supporting families in need, manning library-style bookshops and so on and so on.
Which is not to say all needs are covered. On the contrary, the list of openings is longer and more varied than the jobs pages of the local paper. And that is indicative of just how hard the German capital leans on those who define it as a place where benevolence lives with quiet humility alongside the decadence for which it is more overtly famed.
Enough of the excuses
At a recent networking event for some 60 organizations working with refugees, Berlin state secretary for labor and integration, Alexander Fischer, acknowledged that the city often relies too much on the goodwill of its unpaid helpers.
Listening to him, and looking round the room at the heads nodding almost imperceptibly in agreement, it struck me that my societal contribution of loose change for the homeless and periodic reading and writing classes at a local school don't really amount to much. The reason being, so my internal narrative goes, that I don't have the time. But don't I?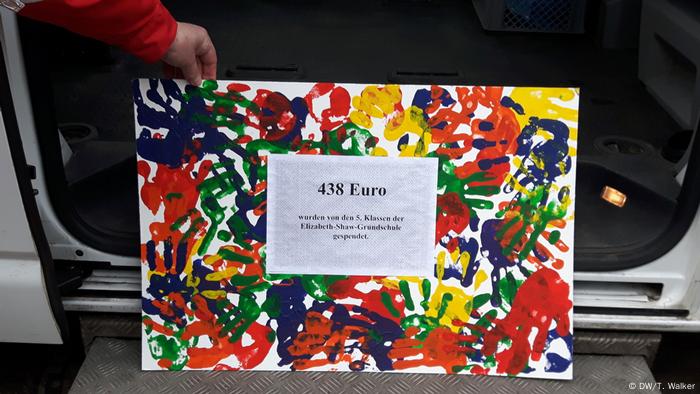 School children are encouraged to get involved with social causes. In this case, they raised money to donate to the homeless. The hand prints are of the kids involved.
I'm told by the city's agency for volunteers, the Landesfreiwilligenagentur, that it's a familiar story. An overwhelming number of those who stepped up to help refugees settle into their new German homes are in the throes of establishing their own lives and have more family and work commitments than free time.
While I'm convinced that many volunteers are motivated by a sense of community, for this is a city of villages where residents often develop deep bonds, it is also possible that - as with so much in Berlin - history is also at play. Rebuilding a city is a communal effort, just as living behind walls brings people closer together and makes them more likely to help each other in times of need.
And that is the Berlin I feel I live in. Though I'm not convinced Berliners really do look while others turn away, I have the sense that when there's really a problem, this is a city I can count on to tackle it. Now I just have to find a way to ensure it can count on me, too.