On January 27, 1945, the concentration camp Auschwitz was liberated by the Red Army. To mark the occasion, the Berlin Staatsoper, one of the world's most renowned opera houses, is bringing "Der Kaiser von Atlantis" (The Emperor of Atlantis) to the stage a day before the anniversary. Viktor Ullmann, a protégé of Austrian modernist composer Arnold Schönberg, wrote the opera while interned in the Theresienstadt concentration camp. The score went missing for a long time and could not be performed. But with a posthumous premiere in 1976 in Amsterdam came the rediscovery of the Jewish composer Viktor Ullmann, who was killed by Nazis in Auschwitz.

The one-act, 60-minute opera with the subtitle "Die Todverweigerung" (Refusal to Die) is a more than sarcastic, even surreal parable about death. The plot involves a brutal tyrant named Overall, whom Death refuses to serve and against whom Death wages a strike. Things turn sour for Overall, who is powerless without his most important weapon - Death.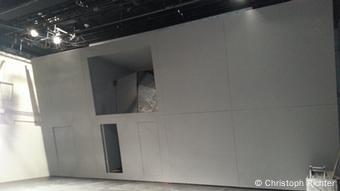 The staging of Ullmann's work is spare and abstract
In the end, Death has a revelation. Without him, no one can achieve redemption, and everyone has to plod on with life - even the ill and weak. So Death gives up the strike and gets back to his work, but only under the condition that the tyrant Overall is the first to die.

The opera's connection to the suffering in concentration camps is evident. Those who were brought to places like Theresienstadt lived with death permanently in front of them.

The libretto was written by a 24-year-old Jewish painter, drawer and author named Petr Frantisek Kien, who was taken to the Theresienstadt camp by the Nazis. And the music comes from Ullmann's nearly 140-page score, written hastily on the backs of yellowed prisoner records.

Act of resistance

"When a person despairs deeply, then death comes to represent hope that there will finally be rest," says music scholar Jens Schroth, who adds that the work has a great deal to do with resistance - how people defend themselves in a given way. Schroth is the head dramatic advisor at Berlin's Staatsoper Unter den Linden, and he stresses that the simple act of creating art was, for many people in the Theresienstadt camp, an expression of self-assertion and autonomy as well as a strategy of subtle resistance.

Thinking and talking about art did not represent a form of escapism into the beautiful and good, Schroth continues, saying, "You see in many countries - of course, less so in western and central Europe - that resistance does indeed take place in this arena. The relevance of 'Der Kaiser von Atlantis' goes far beyond the Third Reich."

The director of the Berlin production, Mascha Pörzgen, adds, "The opera shows the unbelievable power that people facing extreme situations can derive from theater and opera."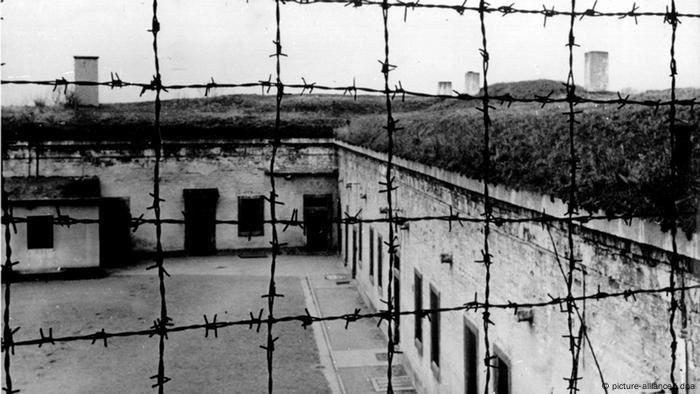 A view from inside the Theresienstadt concentration camp
The Nazis declared Theresienstadt a "model" camp, from which a majority of the prisoners were later deported to gas chambers. But Theresienstadt also had cultural life. Jewish artists and intellectuals organized music, theater and cabaret performances, and Ullmann's opera was rehearsed there as late as 1944.

But a performance never took place because Viktor Ullmann as well as all other performers - with the exception of opera singer Karel Berman, who was ironically slated to play the character Death - were deported to Auschwitz and murdered shortly afterward. It's as chilling as ever to recall the circumstances in which "Der Kaiser von Atlantis" was written.

20th century masterpiece

"It leaves you speechless to think that in such unimaginable circumstances, someone was able to be highly productive and create music, art or literature of unbelievable quality," says Mascha Pörzgen.

However, the director and her colleague Jens Schroth avoid overt gestures to Theresienstadt when it comes to staging the opera - for example, by letting a well-nourished tenor on stage in a prisoner's outfit to insinuate a kind of concentration camp scene. The work, they say, stands on its own even without knowledge of its harrowing composition, and can even be mentioned in the same breath with works like Arnold Schönberg's "Moses und Aron," Alban Berg's "Lulu" or Kurt Weill's "Aufstieg und Fall der Stadt Mahagonny" (Rise and Fall of the City of Mahagonny).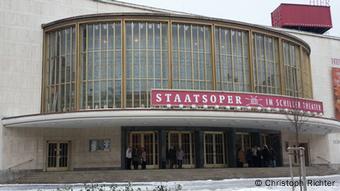 Berlin's Staatsoper in the Schiller Theater
The opera "Der Kaiser von Atlantis" is a straightforward and easily understood musical drama, rooted in a deeply humanistic ideal. It expresses the universal hope, which in this age even seems almost banal, that human beings will break through the vicious circle of war and violence if they want to have a future.

Abstract staging

All roles are sung by members of the Berlin Staatsoper's opera studio, a prominent training academy that has produced singers like Rene Pape and Roman Trekel. The characters are abstract and presented in a subtle way against the backdrop of a crooked, wall-like structure broken through with holes. The orchestra sits in a gallery.

Viktor Ullmann's opera connects things that almost forbid being put together: fin-de-siecle, expressionism, Weltschmerz music and blues - which are sung by Death. He sings sardonically about how nice it was earlier in the war because at least back then people still died individually. Ullmann exhausts everything that was floating around in the 20 to 30 years beforehand in terms of relevant music. One can hear a bit of the sweetness of Puccini, Mahler, Stravinsky and even Bach.

The piece takes an especially political turn when it quotes part of the German national anthem in an ugly minor key - presaging what Jimi Hendrix did a few decades later with "The Star Spangled Banner."