A steady stream of tourists filed past the police barricades and security officers wearing black suits cordoning off Berlin's Cathedral on Wednesday, as inside the opulent building some 1,400 mourners, among them many current and former politicians from Germany and abroad, paid tribute to former President Richard von Weizsäcker, who died on January 31.
Standing a few steps from his predecessor's coffin draped with a huge German flag by the steps leading to the Cathedral's opulent altar, current President Joachim Gauck told the packed church that Weizsäcker was an "outstanding president."
Gauck paid tribute to a "democrat by conviction," who "had been shaped by his own experiences in the Second World War." Weizsäcker was born to an aristocratic family in 1920 and, as the son of a German diplomat, spent his early years in various European cities, studying at Oxford University and Grenoble, until he was drafted into Nazi Germany's army. During World War II, he witnessed the death of one of his brothers, an event which profoundly marked him.
Richard von Weizsäcker, recalled Antje Vollmer, the former vice president of Germany's lower house of parliament, the Bundestag, personally knew many of the young aristocrats who had unsuccessfully tried to assassinate Hitler and were subsequently executed.
Gauck: "Great president who did the right thing"
After the war, Weizsäcker studied law and history. While still a student, he assisted the lawyer defending his father, Ernst von Weizsäcker, a high-ranking aide to Hitler's foreign minister, at the US-run Nuremberg trials.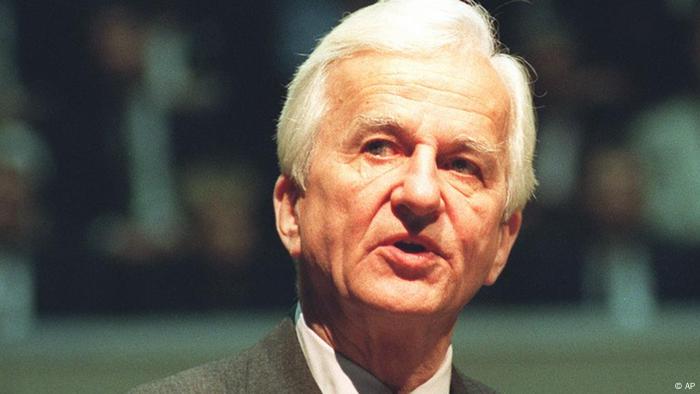 Richard von Weizsäcker served as German president from 1984 to 1994
Weizsäcker joined the Christian Democrats in 1954, and was active in both politics and the Protestant Church. He was elected to the Bundestag in 1969 and served as mayor of West Berlin from 1981 to 1984, when he was elected president.
Weizsäcker, Gauck said, was a "great president who said and did the right thing," referring to his most memorable speech, marking the 40th anniversary since the end of World War II: Addressing lawmakers Weizsäcker said that May 8, 1945 marked a day of "liberation from the inhuman system of National Socialist tyranny" and not capitulation. Younger generations, the former president said, should not be made to feel responsible for the Nazi atrocities. "No discerning person can expect young people to wear a penitential robe simply because they are Germans, but their forefathers left them a grave legacy."
Schäuble: "A loveable, reliable man"
German Foreign Minister Frank-Walter Steinmeier paid tribute to a man "who didn't only speak of reconciliation": Weizsäcker, he said, had actively built trust with Germany's neighbors and former enemies Poland and France. Weizsäcker, who served as the sixth post-war German president from 1984 to 1994, called for reconciliation with East Germany, often opposing his own party, the Christian Democrats, and encouraging dialogue with the communist regime. During his presidency, a largely ceremonial post in Germany, he oversaw the fall of the Berlin Wall and the reunification of Germany.
Weizsäcker "has given the world new trust in our country," Steinmeier said, going on to evoke the former president's love for music.
Finance Minister Wolfgang Schäuble recalled a "lovable, unifying and reliable man," a great personality who "turned to those in need, including me" and loved sports.
Outside the cathedral, soldiers stood salute, as the coffin bearers slowly filed past, carrying the remains of the former president to the black limousine that would take him to his final resting place, a graveyard in Dahlem, in southwestern Berlin.