Facing the German parliament on Wednesday, Hans-Joachim Otto, the state secretary for Germany's economics ministry, defended Germany's business alliance with Saudi Arabia amid media reports that Berlin approved the sale of 200 Leopard tanks to the Gulf State last month.
"Saudi Arabia has obtained armaments from Germany for many years," Otto told the Bundestag, repeatedly refusing to deny or confirm the "alleged sale" of the tanks to Saudi Arabia.
The Suddeutsche Zeitung newspaper reported Wednesday that the deal had already been sealed and that both Israel and the United States signed off on it before the final decision was made on June 27.
"Everyone will understand that the Israeli government is in agreement. Otherwise, there would have been an official protest," the paper quoted a government source as saying.
Opposition outrage
The newspaper's report, although not including any official statement, includes the first German confirmation of the deal which has had opposition politicians - and even some coalition members - up in arms since reports of it surfaced over the weekend.
Merkel's government refuses to comment on matters discussed confidentially within the federal security council which determines export guidelines. For 20 years, Germany has not exported heavy weapons - including tanks - to Saudi Arabia, due to concerns over its repression of its own citizens. Green head Trittin said Berlin must make a statement soon
The opposition called the emergency debate in parliament to demand an explanation from Merkel's government as to why policy had been changed on exports to Saudi Arabia, at a time when the region is seeing numerous pro-democracy movements.
"The government must explain itself at some stage," Green parliamentary leader Jürgen Trittin said, adding that "such decisions cannot be taken at a time when people are fighting for democracy in the Arab world."
Left Party leader Gregor Gysi demanded that the government change its policy of keeping export sales confidential. At present, all decisions passed by the security council are only published at the end of the following year.
"Whom do these rules actually protect?" an emphatic Gysi asked with his eyes directed at Chancellor Merkel sitting in the conservative faction of the Bundestag.
Funding repression?
A Saudi security source confirmed the deal earlier in the week, saying 44 of the 200 tanks ordered had already been bought.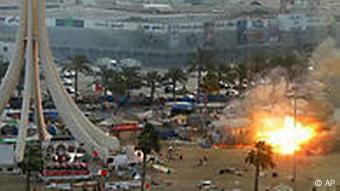 Saudi tanks helped crush revolts in Bahrain's capital Manama
The source declined to give a value for the purchase, saying it was a multi-billion euro deal involving the German companies Krauss-Maffei Wegmann (KMW) and Rheinmetall. KMW declined comment on the deal but said it was "not aware of any changes to trade regulations covering military exports."
The purchase follows a $93 billion stimulus package from Saudi King Abdullah in March to beef up police and security forces in response to unrest sweeping through the Arab world.
Germany's opposition has accused Merkel's cabinet of hypocrisy, charging that Berlin - which publicly supports the Arab Spring pro-democracy movements - shouldn't be sending battle tanks to a country that used tanks to help Bahrain quell anti-regime demonstrations in March.
Outside the Bundestag on Wednesday, hundreds of protesters held up banners recalling dictatorships that used tanks to crush activist movements. Using the examples of East Berlin, Prague, Beijing, and Damascus, demonstrators urged parliamentarians inside not to sell heavy weapons to regimes infamous for the repression of their own people.
Author: Gabriel Borrud (AFP, dpa)
Editor: Michael Lawton