Painter Tarek Marestani wanted to do a series portraits on young people in Germany with migrant backgrounds and he began to realize the project a year ago after moving to Berlin.
He began by establishing contacts in districts of Berlin that are popular destinations for immigrants and asking them if they would be interested in letting their children sit for his project as models. Many agreed.
Realistic, not polemical
"The project is intended to be a bridge of understanding between immigrants and the rest of German society. I want to create a realistic - and not a polemical - dialogue," Marestani explained.
The portraits are a mix of acrylic and oil on canvas and will be 60 by 70 centimeters (24 by 28 inches). Around 15 young people have already said they want to take part, but Marestani hopes to find 30 participants in total.
These young people are the future of society, Marestani said, and that's why they have to strive to be able to help shape the environment in which they'll live. But German politics has to hold up its end of the deal, he stressed.
"Our politicians have to send the signal: We are working on your behalf; put in the effort, and we'll help you bring things forward," the painter said.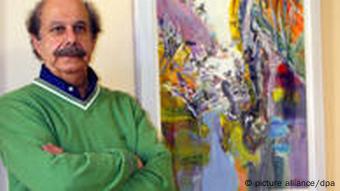 Marestani is himself an immigrant, having arrived in Germany nearly 30 years ago
Hostile remarks
Udo Steinbach, former director of the German Institute of Asian Studies and an expert on Islam, has known Marestani a long time and supports his work. The role young immigrants will later play in society is an important issue according to Steinbach.
Against the backdrop of the debate unleashed by a controversial 2010 book about immigration by Thilo Sarrazin, Steinbach believes it's important to consider what opportunities are open to young immigrants and understand the effects of public statements like that of the premier of the German state of Bavaria, who has advocated restricting immigration from other cultures.
"That was a shock for young people, who realized they were the target of what he said," Steinbach added. "In this situation, it's important for Germany to show that young people have to be given a chance - through open and honest encounters with them."
Thoughts and dreams
Thorough background preparation is part of Marestani's process. He begins with photographs, sketches and conversations with both the young people he'll paint as well as their parents. The goal is to create portraits that reflect his subjects' thoughts, dreams and character.
One of Marestani's subjects, 13-year-old Wassima Ait-Oufkir, has Moroccan roots and attends high school in Hamburg. She also likes to paint and performs in a theater group.
"I wanted to be in the project because I hope that the good sides of integration can be presented - and not just the negatives," said Ait-Oufkir, who hopes to eventually become a lawyer.
At school, it doesn't make much of a difference where people are from, and people are just treated equally, Ait-Oufkir added.
Marestani isn't just working with young people that come from Arabic and Turkish backgrounds. "I've also met with people from Vietnam and China and am looking for other nationalities," he said.
Raising consciousness
Islam scholar Udo Steinbach pointed out that European art in the 19th and 20th centuries often took up social questions in ways that raised consciousness. He expects Marestani's exhibition will do the same.
"You see these young subjects through the eyes of the artist. And you see them wondering what role they play in this society, which role their society will allow them to play," Steinbach said.
The role of young immigrants in Germany goes well beyond being a question of domestic politics in the eyes of the Islam researcher.
"Businesses and economic leaders have to see that the debate about integration that we're having is looked at with surprise in a lot of parts of the world," Steinbach stressed, adding that people's views about the stability and ability of cultures to coexist within Germany can have significant effects on the economy.
Marestani expects the portraits will be finished within a year, which will be followed by an exhibition in Berlin. It will be accompanied by events that encourage discussion and dialogue about integration in Germany.
The show will then likely travel to Hamburg and other cities in the country. According to the artist, he is negotiating with several institutions to help create a successful traveling exhibition.
Author: Sabine Ripperger (gsw)
Editor: Stuart Tiffen