Police investigating cases of sexual abuse on minors searched the home of the former head of the Roman Catholic Church in Belgium, Cardinal Godfried Danneels on Thursday, seizing computer files after fresh allegations were raised of child sex abuse by pedophile priests.
Danneels stepped down as Archbishop of Mechelen-Brussels and as the head of Belgium's bishop's conference last January after serving in that position for more than 30 years.
In Leuven, east of Brussels, police also searched the office of the Church commission which has been tracking complaints and compiling evidence about child sex abuse.
Hundreds of complaints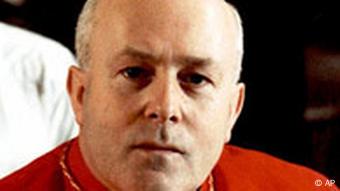 Godfried Danneels headed the Belgian Catholic Church for more than 30 years
"These are searches based on some allegations made to the Brussels prosecutor denouncing sexual abuse of minors by certain people in the Church," a spokesman for the prosecutor's office, Jean-Marc Meilleur, said.
No names were mentioned, but reportedly there have been some 450 complaints.
The raid in Mechelen, where the Brussels archdiocese is located, came while the country's bishops were meeting there, a Church statement said.
In April, Roger Vangheluwe, the bishop of Bruges for the last 25 years, was forced to resign after admitting to sexually abusing a boy earlier in his career.
Danneels' successor, Andre-Joseph Leonard, has vowed "zero tolerance" for cases of child sex abuse since taking over as archbishop in January.
In a bid to restore confidence within an increasingly skeptical flock, Belgium's bishops met in May to publicly beg for forgiveness from victims both for the actions of pedophile priests and the Church's silence on the issue over the years.
Author: Gregg Benzow (dpa/AFP/Reuters)
Editor: Andreas Illmer