For those watching at home, there was only one way to describe the event that saw Marieke Vervoort take home the silver medal in the 400 meters wheelchair race in Rio de Janeiro, Belgium's first medal of the games.
"It was explosive," said Gery Follens, the secretary of AC Lyra, the athletics club near Antwerp where Vervoort is affiliated. "We were very happy that she placed second, with all that she's gone through. We never expected her to be selected for Rio, and for her now to have won the silver medal, it's incredible."
The medal - and a possible second on Saturday - is a fitting end to the track career of the Beast from Diest or Wielemie, nicknames she's adopted over the years.
A former world champion para-triathlete and record-setting wheelchair racer, Vervoort also competed in the London Summer Olympics in 2012, taking home the gold in the T52 wheelchair classification 100 meters and the silver in the 200 meters.
The 37-year-old made headlines ahead of the Paralympic Games when it was widely reported that she was ready to take her own life once she had competed in Rio.
Vervoort, who suffers from a rare degenerative spinal disease that causes paralysis, constant pain and epileptic seizures and many sleepless nights, signed euthanasia papers in 2008. She began using a wheelchair in 2000 after being diagnosed with the condition as a teenager, and now relies on daily visits by helpers and the support of a yellow Labrador named Zenn.
Euthanasia has been legal in Belgium since 2002, and was extended to terminally ill children in 2013. Belgium is one of the few countries in the world where the practice is allowed. Various forms of physician-assisted suicide are also legal in Canada, Luxembourg, the Netherlands, Switzerland and a few US states.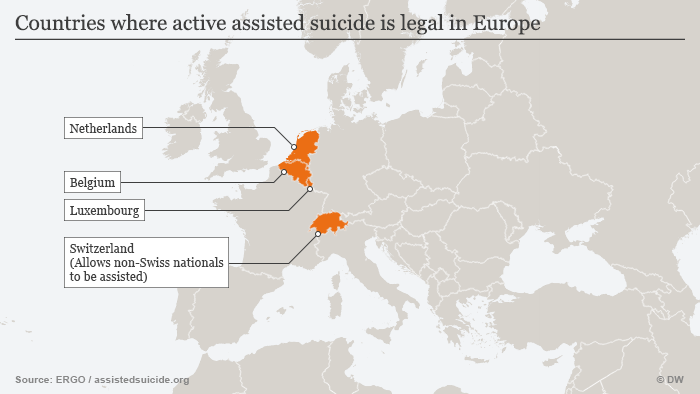 'Time is not there yet'
But in a press conference after her win on Sunday, Vervoort, a strong advocate of the right to euthanasia, told journalists that reports in the Flemish press had been misunderstood, saying suicide now was "totally out of the question" for her at the moment.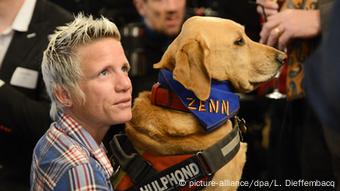 Vervoort relies on her dog Zenn to alert her to oncoming epileptic seizures
In July, she told the Belga news agency that she still hoped to "enjoy some of life first," ticking off her bucket list that includes skydiving and a flight in an F-16 jet.
"If I didn't have those papers, I think I'd have committed suicide already. I think there will be fewer suicides when every country has a euthanasia law," she said, stressing how difficult it was for her to get doctors to approve her request. "I hope everybody sees that this is not murder, but it makes people live longer."
Training has become increasingly difficult for Vervoort, who told Belga that she often loses consciousness during training due to the pain. "My body is telling me to stop!," she said.
"When the day comes, when I have more bad days than good days - I have my euthanasia papers," she said. "But the time is not there yet."
One last chance at a medal
"She feels good right now - quite good, in fact," said Follens, who added that the club has been in regular contact with Vervoort through WhatsApp. Follens told DW that after some initial difficulties following the long trip to Rio, where Vervoort was hospitalized upon arrival, she now feels better and is back to her usual training regime.
Follens is proud of her achievements over the years, from the early days to her record-breaking performances since she joined the club in late 2011.
But her actions off the track have also left a positive mark: Vervoort is a motivational speaker, and Follens said she has been a invaluable ambassador for sports both at the club, which holds an annual competition for disabled athletes in Belgium and neighboring Netherlands and France, and for the wider world of sports in Belgium.
"She has been an extraordinary example for athletes, both able-bodied and those with disabilities," he said, pointing out how she motivates athletes to "give it their all."
"Sports for people with disabilities has seen a great success in Belgium, due in no small part to her involvement and her commitment," said Follens. Twenty-nine athletes are competing in Rio this year, and the team has already won three gold and one silver medal.
Vervoort has one last chance to medal on Saturday, when she defends her London win in the T52 100 meters, her last wheelchair race as a Paralympian. Follens will be glued to the YouTube live stream.
"It will be very difficult for her to defend her title, after all that she has gone through over the years," he said, referring to her deteriorating condition and a seizure she suffered while cooking in 2014, which resulted in severe burns on her legs. "But I hope to see her on that podium."