At least 26 people were arrested ahead of a large anti-government protest planned for the weekend, Belarusian state television reported on Thursday, citing the state security service.
The officials said the suspects were preparing mass unrest. However, Belarus NGO Vyasna, a group that defends the rights of political prisoners, said that those preparations "never happened." Earlier on Thursday, the EU said that the prisoners arrested in the last two days "must be immediately released."
"We are in touch with Belarusian authorities in order to pass necessary messages calling for restraint," a spokeswoman for the EU's foreign affairs office said.
Lukasheko warns of 'mutiny'
On Tuesday, the long-reigning president Alexander Lukashenko said that several dozens militants had been detained for "preparing an armed provocation." It was not immediately clear if this incident was linked with the latest wave of raids that followed this statement.
According to Lukashenko, the militants underwent weapons training at camps in Belarus and Ukraine, and were funded through Poland and Lithuania.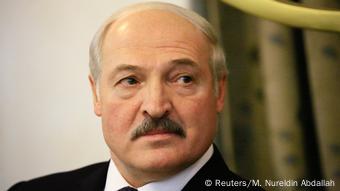 Faced with protests, Lukashenko temporarily shelved the tax on unemployed
"There are people who want to destabilize the situation in the country," he said. "They need to raise a mutiny. Their dream is to destroy the government and oust the president."
The state security service, still known under its Soviet-era name of KGB, said that the alleged militants were members of the radical nationalist group White Legion. The state television showed images of the weapons cache, including several rifles, ammo clips, grenades and a bulletproof vest.
Lukashenko, who has maintained a firm grip on power since 1994, also hinted at unnamed powers wanting to start a so-called color revolution in Belarus.
The strongman faces a wave of protests after enraging the public with his "anti-sponging" initiative, that would effectively tax the unemployed in the impoverished country.
dj/jr (AP, AFP, Interfax)