Bass-baritone Evgeny Nikitin cancelled his contract and left the Bayreuth Festival four days before his scheduled premiere in the title role of Richard Wagner's opera "The Flying Dutchman." The Russian singer says a misunderstanding is at the root of the controversy.

DW: Your tattoo caused a big scandal because it associates you with right-wing extremist ideology. Do you or did you have contacts of this kind?

Evgeny Nikitin: Never in my life have I been a member of any political party or group, neither rightist nor leftist. I find National Socialism in any form deeply abhorrent. After all, both of my grandfathers died on the front in World War II.

What is the significance of the tattoo?

It never had anything to do with a swastika. It was supposed to be a star with eight points and a cloak of arms in the middle. I thought up the motif myself. We did the tattoo in several stages: first the cloak of arms, later the star surrounding it. The star is made of two overlapping squares. They take up so much space on the skin that it's too painful to have it all done in one session. So the motif was tattooed over a longer period of time, strip by strip. And at one point in the process, with a lot of fantasy, you could have interpreted the unfinished rays of the star as parts of a swastika. But, as I said: that was only at a certain stage. It was never intended to be a swastika. That becomes clear if you take a look at more recent photos.

You never wore a swastika on your skin?

Absolutely not. I never wanted that, and even more so, I would never have posed for the camera with a swastika. I also abhor the more recent kind of Russian fascism. I'm an artist, an opera singer, not a neo-Nazi.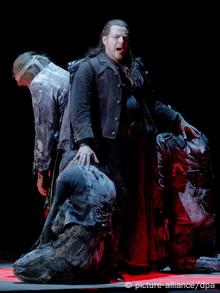 Nikitin is pictured here in a 2008 production of "The Flying Dutchman"
In your most recently published statement you mention "youthful transgressions" and "stupid mistakes." What mistakes do you mean if not in reference to the tattoo?

What I meant by "youthful transgressions" was ever having tattoos made in the first place. It was completely foolish, and I'm miserable about it today. I wish I could have them all removed.

But if you did nothing wrong, why the apology? Why did you abrogate your contract and leave Bayreuth?

It all happened so fast. One thing quickly led to another. I think the decision we made at the moment was the right one at that point in time. I wrote my statement in consultation with the festival office.

Who was interested in the affair?

People who want to damage the Bayreuth Festival and the festival direction. Maybe somebody else, too, I don't know.

Were there any problems of artistic nature during the rehearsal phase - disagreements with the stage director and his team?

No problems at all. I think that with director Jan Philipp Gloger we all developed a wonderful stage presentation, and I wish all the colleagues, including Katharina and Eva Wagner, and conductor Christian Thielemann, much success!

Did the festival directors see pictures of your tattoos beforehand? Did you discuss the matter with them?

At the festival's request, I had all the "pictorial material" on my body - and there's quite a lot of it - photographed and sent it to them. They wanted to take it into account when designing the costume and the makeup. Of course they didn't discover anything criminal in it.

After everything that's happened, would you ever want to work in Bayreuth again?

God willing - yes.

Interview: Anastassia Boutsko / rf
Editor: Greg Wiser