Some might call it an understatement to label Villa Glory a luxury estate. The asking price is €13 million ($16 million).
The villa's owner is not a publicity seeker. In fact, his name does not even appear in the state land register. And, as DW research has shown, there is good reason for that reclusivity.
In June 2010, a young, nouveau riche Ukrainian purchased a 3,700-square-meter (1-acre) parcel of land in the Bavarian village of Garmisch-Partenkirchen. He had big plans for the property, and was intent on building a palatial villa. The buyer, the 28-year-old son of a Ukrainian agricultural baron, put €3.3 million on the table for the property. The sales contract made available to DW reveals the name of the purchaser: Mykola Huta.
In late 2010, shortly after purchasing the property, Huta took over the Ukrainian agriculture empire run by his father, Ivan. The Hutas' family business was named Mriya Agro Holding. Mriya is Ukrainian for dream, and young Mykola was the embodiment of a new generation of agricultural managers who sought to exploit the potential of Ukraine's fertile black soil — and use foreign investment to help them do it.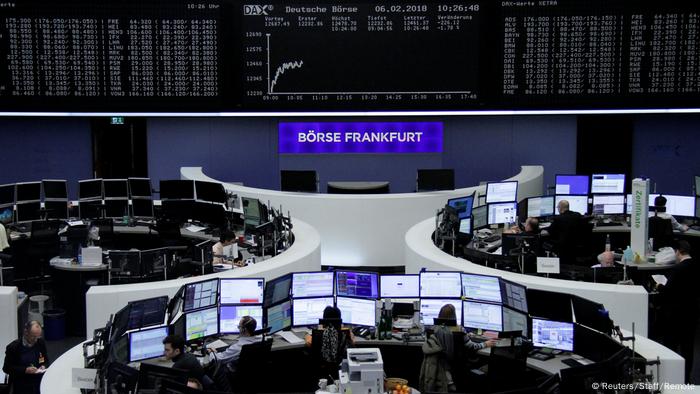 Investors were keen when Huta took Mriya public — they ended up fleeced
Mriya's rapid rise
In 2011, the young Huta put Mriya on the Frankfurt Stock Exchange. Demand for shares in the rapidly growing holding was high: By 2013, Huta had raised about $600 million. With a zero-interest policy in effect, eurozone investors were hot for the 9.5 percent returns that the company had promised. To fuel the hype, Mriya leased ever more property. Soon the holding controlled roughly 300,000 hectares of farmland in Ukraine — an area larger than Luxembourg.
Read more: Deutsche Börse's Kengeter denies insider trading
In order to farm that area, Huta needed modern agricultural equipment and technology. German firms and banks were all too eager to get in on the business. Easy credit and state export guarantees allowed them to deliver "German Made" harvesters and tractors to Mriya on a large scale. About €75 million in business was financed by German investors alone. The lenders included Deutsche Bank and the state banks of Berlin and Baden-Württemberg.
But then came the shock: Suddenly, in the summer of 2014, Mriya announced that it was insolvent and unable to service a mountain of more than €1 billion in debt. When an emergency committee of creditors took control of the company, a massive con was quickly uncovered.
It turned out that Mriya was losing millions from the very start: The fat profits in accounts were simply put there for the benefit of hypnotizing investors. "The holding regularly received payments for goods that never existed," said Ton Huls, who has been appointed to administer Mriya's finances. "Management used a portion of the cash it had previously diverted to accounts in Cyprus to refinance, allowing it to gloss over losses. That allowed them to get more money still from investors."
There was little for creditors to put liens on when the firm went bust. Mriya held leases on property, not deeds. And even the harvesters and tractors had disappeared by the time creditors arrived.
Mykola Huta and his family relocated to the Canton of Obwalden in Switzerland, according to DW's research. He is currently under investigation for breach of trust in Ukraine. Should he be found guilty, he faces a long prison sentence.
Creditors say he siphoned more than €160 million from the holding over the course of several years. Some of that cash came directly from bond placements on the Frankfurt Stock Exchange. Huls said the model was simple: A shell company in the British Virgin Islands received cash from investors and then used that money to buy dozens of shell companies in Cyprus. Millions of euros exchanged hands, yet the companies in Cyprus were shells in the truest sense, utterly empty.
Read more: Frankfurt's future as a financial hub
Adjusting the price
Part of the money diverted from those fictitious purchases may have made its way to Garmisch to finance Villa Glory. And a top-level Mriya employee was involved in that process: Andriy Buryak was director of finance at the holding at that time. His signature is on the credit contracts between one of Mykola Huta's shell companies in the BVI and the Cypriot shell company Oihro Ventures Limited.
In the land register, it was Oihro, and not Huta, that was originally listed as the owner of the property and then later the villa. At least €16 million ended up in Garmisch in the form of "loans" to Mykola Huta. Architect fees and a number of other invoices related to the construction of the villa were all payed from Oihro accounts. DW is in possession of copies of those documents.
Meanwhile, Villa Glory belongs to Viktoriya Huta, Mykola's wife. The entry in the land register was also updated at the time that transfer of ownership took place. Now, a different Cypriot company is listed as the owner: Zapatoustra Holdings Limited, which belongs to Viktoriya Huta. Here, too, there is a direct connection to Mriya: Zapatoustra's director until 2017 was Serhiy Mozil, formerly the in-house counsel at Mriya, and Huta's most trusted adviser. Documents in Cyprus' registry of companies confirm this.
Viktoriya Huta became the owner of the villa after Switzerland denied her husband asylum last year, opening the door for his extradition to Ukraine. Huta has been fighting in vain against his extradition before Swiss judges since that time. Soon the country's Federal Administrative Court will have the last word on his request.
Shortly before the issue of Huta's asylum made its way to the Swiss appeals court, the asking price for the villa dropped from €18 million down to "just" €13 million.
According to a spokesperson from the Economy Ministry, the federal government has already reimbursed German banks with some €24 million to cover losses from their Mriya loans. The loans were insured with Hermes Guarantees within the framework of federal export subsidies. The claims must be instituted against the companies of Mriya Holding. Mriya has no business relationship to its former owner. "Liability to Mykola Huta must be audited on a case-by-case basis," a ministry spokesperson told DW.
The bill to be paid by German taxpayers could be higher still: Currently, the financing volume covered by the federal government totals some €46 million.
Each evening at 1830 UTC, DW's editors send out a selection of the day's hard news and quality feature journalism. You can sign up to receive it directly here.