Some four million people work in Bangladesh's textile industry, an economic sector expected to drive the country into a better future. But also Salma, who had left her nine-month-old daughter back in her parent's village to find work in a garment factory in the Bangladeshi capital Dhaka, had hopes for a better life.
In a video commissioned by the Dutch church organization ICCO, she talks about her desperate situation after the factory building collapsed in Rana Plaza on April 24 this year and how an injury to her spine paralyzed her. She doesn't know how she will be able to earn a living now.
'25 years of lost wages'
The collapse of the illegally constructed factory building killed 1,134 people. To this day it remains unclear exactly how many people were injured, but Jyrki Raina, General Secretary of IndustriALL Global Union, puts the figure at 2,500. The unionist has called for binding and compressive compensation, based on the norms set by the International Labor Organization (ILO): "We calculate 25 years of lost wages for the victims," Raina told DW.
IndustriALL, a federation with 50 million union members from 140 countries, recently invited the companies who had ordered garments from Rana Plaza to talk about compensation claims. The meeting, which is scheduled to take place in September, is supported by Clean Clothes Campaign, an Amsterdam-based organization focused on improving working conditions in the global garment industry.
The labor union has asked Western retailers to shoulder 45 percent of the total compensation cost. Bangladeshi factory owners and the government are expected to cover the rest. IndustriALL estimates that more than $72 million USD will be needed to compensate the victims or their surviving family members.
The manufacturers listed on the Clean Clothes Campaign website include international brands such as Benetton, Mango, Wal-Mart, The Walt Disney Company and Primark as well as German firms like Karl Rieker, Adler Modemärkte and KiK.
Little commitment
"Many firms are trying to shirk their responsibility, claiming they had no direct relations with the factories," said Frauke Banse from the German affiliate of Clean Clothes Campaign.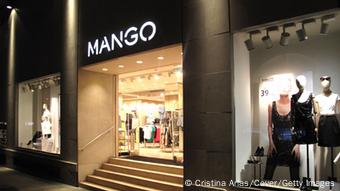 The Spanish fashion clothing form Mango will not be attenting the talks
She said it was difficult to determine who actually had garments produced in which factory, since only some labels found in the rubble gave an indication of who was manufacturing what. "Primark is the only company so far to have committed itself to paying compensation. Others, like Karl Rieker, have at least promised to come to the meeting."
However, the Spanish clothing company Mango would not be taking part in the talks, said Brause. The same was true for Wal-Mart. According to unionist Jyrki Raina, the US retail giant justified its absence by saying that one of its suppliers had placed an unauthorized order to one of the garment factories based in Rana Plaza.
"I told Wal-Mart I understood it wanted to punish the supplier for not sticking to the rules. But it's not the fault of the workers. They were injured or killed while making Wal-Mart products which would later be sold profitably by the company," Raina said.
Waiting for help
A previous disaster that struck Bangladesh in 2012 showed that there are other ways of dealing with such tragic incidents. At least 112 people died in November that year when a fire broke out in the Tazreen Fashion factory on the outskirts of Dhaka. Clothing firms such as the Düsseldorf-based C&A were among its customers.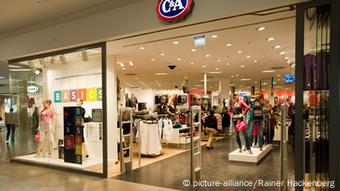 The German clothing firm C&A has been compensating victims of the Tazreen Fashion factory fire
"Workers who suffered burn injuries or became incapacitated due to the incident, receive monthly financial assistance to compensate for lost wages and are looked after by several medical teams who also examine whether further medical treatment is required. All of these costs - compensation for lost wages and medical treatment - are covered by the C&A Foundation," the company told DW, adding that it would attend a meeting with the labor unions in Geneva, Switzerland to reach a final settlement on compensation claims.
In the meantime, the victims are still depending on alms and money from aid funds. Raina said that immediate aid had been provided by several organizations, including the labor unions. However, he added, most fashion companies had done very little.