A five-judge panel in Dhaka upheld the verdict against 64-year-old Mir Quasem Ali, a senior leader of Bangladesh's Jamaat-e-Islami party. Bangladesh's war crimes tribunal first sentenced him to death in November 2014.
Attorney General Mahbubey Alam confirmed the verdict. Ali's lawyer Khandaker Mahbub Hossain said he would consult with his client and his family before deciding whether to seek a review of the decision.
Mir Quasem Ali, a media tycoon and key financier for the Jamaat e-Islami party, was convicted on charges including confinement, torture and incitement to religious hatred during Bangladesh's war of independence from Pakistan in 1971.
At the time, Ali was one of the founders of the al-Badr force, which was reportedly commissioned by the military in Islamabad to wipe out dissenters. He was found guilty of the kidnap and murder of several people, and then of dumping their bodies in a river in Bangladesh's southeastern district, Chittagong.
The 1971 war
According to Bangladesh's official figures, which are contested, around 3 million people were killed and 200,000 women raped during the breakaway from Pakistan. Factions like Jamaat-i-Islami opposed the breakaway. Mir Quasem Ali went into hiding after Pakistani forces surrendered on December 16, 1971.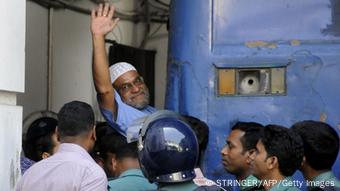 Mir Quasem Ali had entered the International Crimes Tribunal court in Dhaka on November, 2014
He resurfaced years later as a political leader and was arrested in July 2012, two years after Prime Minister Sheikh Hasina set up a war crimes tribunal for the 1971 conflict. Leaders opposed to the tribunal say the court is being used by the prime minister to victimize opponents.
Since 2013, the tribunal has convicted and executed four people, three of them leaders of Jamaat-e-Islami.
mg/msh (dpa, AP, Reuters)