Since the creation of Pakistan in 1947, a small group of Baloch nationalists have been in conflict with the federal government.
The 700-kilometer (430-mile) march, from Quetta to Karachi began on Monday and was expected to take two weeks.
Local rights groups have the details of 8,000 people who they say were disappeared over the past ten years and have not been seen since.
According to the Asian Human Rights Commission (AHRC), 23 bullet-riddled bodies were discovered in January 2012. From August 2011 to January 2012, 56 Baloch people are known to have been murdered and dumped on roadsides, according to AHRC.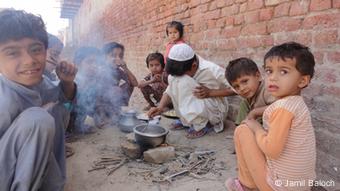 The state of Balochistan is Pakistan's poorest and least populous
The Voice for the Baloch Missing Persons (VBMP) indicates the number is much higher.
The armed struggle for Baloch independence intensified after the killing of influential Baloch leader Akbar Bugti in 2006 in a military operation. Rebel Baloch fractions like the Balochistan Liberation Army have repeatedly attacked security forces and state installations. Most of the rebel leadership is thought to be abroad in the UK, Afghanistan and Dubai.
Disappeared, even in the media
The issue of missing persons remains highly sensitive as far as its media coverage is concerned. Baloch journalist Saeed Sarbazi considers himself lucky to be alive. He was had been advocating for the rights of Baloch people before he was abducted last year by "unknown" men.
Talking to DW he said: "They blind-folded me and kept me in a locked cell. They interrogated and tortured and forced me to stand all the time. I told them that I don't have any links with any terrorist or militant groups working in Balochistan. I'm just a journalist. I used to help missing persons' families who come and sit in the camp." Sarbazi was released after a month.
Despite vast natural mineral reserves in Balochistan, its inhibitors remain the poorest in Pakistan.
The prolonged insecurity has left its marks on the socio-economic aspects of the Baloch community, which makes less than five percent of Pakistan's total population.
Usually the tribal chiefs and highly influential figures have been ruling the Balochistan government. But for the first time in the history of Balochistan government, a working-class politician was elected as the chief minister in June this year. The appointment of Dr. Abdul Malik raised some hopes for many, but this first-non tribal leader admits his limitations when it comes to the issue of missing persons and federal security agencies.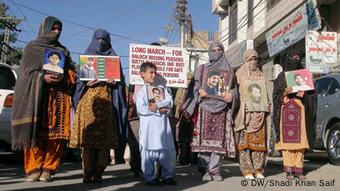 The march was expected to last some 15 days, covering hundreds of kilometers
"I admit my failure on the issue of missing persons. I have repeatedly raised this issue and highlighted that without resolving it, we cannot proceed any step further towards peace dialogues [with rebels]. But unfortunately there has been no progress." Malik said talking to journalists in Karachi this week.
Betrayal of trust
Sources say the matter is directly linked to Pakistan's security establishment and that politicians do not have much say in such matters.
The separatist forces on the other hand rules out any dialogue. A separatist leader Abdul Hakim Lehri told DW said that the Pakistani establishment has "betrayed" the Baloch people on various occasions and they can therefore no longer be trusted.
The marching Balochs crossed Mastung district on Thursday en-route to Karachi.
According to the VBMP founder Abdul Qadeer Baloch, participants of the long march will be travelling for 15 days from Quetta to Karachi. Family members of missing persons from other districts will join the march along the way.
"We are coming to Karachi to register our protest and highlight our issue," he said speaking via telephone.