Before thousands of Liberian schoolchildren returned to their classrooms on Monday (16.02.2015), Francis Abu Jarbateh gave a lecture to teachers, parents and education support staff on hygiene.
Jarbateh is a member of a team from the National Catholic Health Council of Liberia.
"No medication should be given in schools, because medication will be a way of hiding illness. Illlness is our enemy right now," he told his audience.
The Liberian government had insisted on these preparatory workshops as one of the conditions for the reopening of the nation's schools.
Liberia, which had recorded the most deaths from Ebola and was hardest hit at the peak of the epidemic in September and October 2014, is now leading West Africa's recovery from the virus.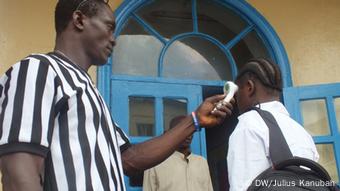 Temperatures were being taken as Liberian children returned to school for the first time in six months
In the week ending February 8, Sierra Leone recorded 76 new cases, Guinea 65 and Liberia just three.
With a strict hygiene routine in place, education authorities believe they can prevent the disease from flaring up in the classroom.
Out for six months
Schools were closed in Liberia for the last six months as a precautionary measure to stop the deadly virus from spreading.
Although Jarbateh insists that "the school system is very prepared" for the resumption of classes, some parents were concerned that their offspring would once again be in close proximity to other children.
Minie Sackie told DW she was worried by the carefree abandon with which children scamper around.
"The way I control myself is not how the children will control themselves. So for them to be together in a group of 35 or 40 children in a classroom, there is no way that they will not touch one another," she said.
And Fabine Kwiah said "I have not seen the kind of facilities that I expect in this crisis, because as you know we still have this Ebola around in our country."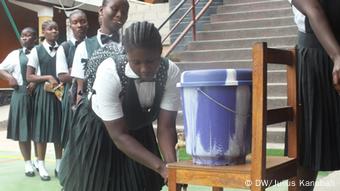 UNICEF and its partners have been handing out more than 7,000 hygiene kits for over 4,000 Liberian schools
Ebola 'still around'
But science teacher Alexander Sammy McGonnah sought to reassure parents saying he would be focusing his students' minds on Ebola awareness.
"My first message to them is that Ebola was here. Ebola is real and it is still around. It has not gone yet totally. So, we do not have to practice complacency because this is a major issue," he said.
In reopening its schools, Liberia hast taken another step on the road to recovery from Ebola. The virus has caused huge damage to Liberia's social fabric and its economy, changed the way people interact with one another and left survivors stigmatized.
The disease has killed more than 9,000 people, mostly in Guinea, Liberia and Sierra Leone.