An estimated 125 million people worldwide tuned in to see duo Ell and Nikki crowned Eurovision winners at this year's festival with 221 points. Their romantic ballad "Running Scared" was mentioned by fans and critics as a potential winner although it was overshadowed in the run-up to the final by the flashy Jedward and Lenamania.
Azerbaijan has only competed in Eurovision since 2008. This was the country's first win. Its highest previous placing came in 2009 when AySel and Arash reached the top three.
The show got off to a sizzling start. After welcoming viewers to the programme, hosts Stefan Raab, Anke Engelke and Judith Rakers began a playful, acapella cover of Lena's winning 2010 track "Satellite" which erupted into a big band cover complete with Raab on electric guitar and then drums before being joined on stage by an army of dancing Lena clones.

However, the real Lena appeared on stage to thunderous applause to sing lead vocals on the rock version of her track before kicking off her high heels and posing on the side of a double bass. The number wrapped up with a spectacular laser light show and indoor fireworks display kicking the three-hour TV marathon off in sparkling showbiz style.
Production value
Host broadcaster ARD pulled out all the stops with some spectacular stage lighting and effects. French contender Amaury Vassilli's operatic performance was enhanced with an extremely realistic sunset backdrop with moving clouds while in contrast Lena Meyer-Landrut sang "Taken by a Stranger" on stage with silver-clad dancers with a harsh metallic backdrop and stark white spotlights. Such highly effective backdrops and lighting effects enhanced each performance and continued the theme of slick and credible at Eurovision as opposed to gaudy and over-the-top.
There will undoubtedly be sadness in the German fan camp; expectations were high for Lena Meyer-Landrut after her surprise landslide victory last year with "Satellite." With an even more stripped-down track at this year's contest in the shape of "Taken by a Stranger," all eyes were on the 19-year-old singing sensation from Hanover. However she couldn't quite repeat the magic of her simplistic 2010 performance; Germany finished tenth.
Despite Germany's disappointing performance, critics have credited Lena with inspiring a return to musical credibility at the contest with many tracks competing in this year's event - Switzerland's entry "In Love for a While" by Anna Rossinelli for example - being fashioned along similar, low-key lines.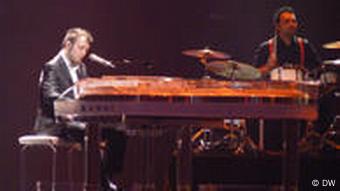 Italian runner-up Raphael Gualazzi came in second in the contest
Return in style
Italy, which always had a turbulent relationship with Eurovision, returned to the contest this year for the first time since 1997. The country backed out of participating several times over the years; its lengthy absence since the late 90s has still not been explained fully. This year's entrant, Raphael Gualazzi, represented his country with the slow-burn jazz number "Madness of Love" which came in at the very respectable second place.
There was also disappointment for Germany's 2.5 million-strong Turkish population. "Live it Up" by rock band Yüksek Sadakat crashed out of the running after the first semi-final earlier in the week.
Regardless of where they find themselves in the finals table, what all countries wish to avoid at all costs is the ignominy of gathering no votes at all, the infamous "nul points." Fortunately this year no one went home with zero votes although Switzerland limped in in last place with "In Love for a While" by Anna Rossinelli only scraping 19 points.
Author: Gavin Blackburn
Editor: Stuart Tiffen