Suicide bombers attacked the village of Dalori, some 12 kilometers (7 miles) from the Borno state capital of Maiduguri, on Saturday night, burning down the entire village. Dalori is located near camps set up for people displaced by the Boko Haram insurgency in the country's northeast, now in its seventh year.
Local residents have claimed that at least 50 people were killed in the attack, while news agencies reported more than 65 victims. An official with the state emergency agency present at the scene said 12 bodies had been burnt beyond recognition.
"During the incident lives were lost while some people sustained injuries," said army spokesman Colonel Mustapha Anka. He added that the jihadists had arrived the village in cars and on motorcycles "before they started opening fire and burning houses" shortly after evening prayers.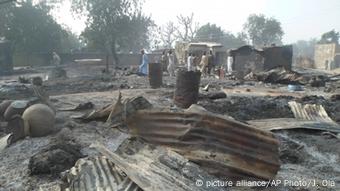 Insurgents torched the entire village of Dalori, near Maiduguri
Three female suicide bombers were also "intercepted and subsequently got blown up" during the attack. It was the third attack this week suspected to have been carried out by Boko Haram.
A survivor hiding in a tree told the Associated Press news agency that he had watched the Boko Haram extremists firebomb huts while hearing the screams of children among those burned to death during the attack.
The coordinated attack reportedly continued for four hours. It was the worst attack in the region in a month; Boko Haram managed to kill more than 50 people in Maiduguri at the end of December.
Further attacks in Chad
Three more people were killed and dozens wounded in two suicide bombings in the Lake Chad area around 100 kilometers (about 60 miles) north of the Chadian capital, N'Djamena. In the first attack in Guie, a suicide bomber killed one person and injured 32, while the second attack in the village of Miterine left two dead and 24 wounded, officials said.
The area is frequently targeted by Boko Haram fighters, who seek to establish a hard-line Islamic state in northern Nigeria and neighboring regions. The conflict has killed some 17,000 people and forced more than 2.6 million to flee their homes since it began in 2009.
ss/cmk (AFP, AP, Reuters)