Cultural institutions may take pride in marketing themselves as zones of creative freedom, a place to break rules, a space for critical inquiry - but a collective international platform for cultural workers has a different story to tell.
Taking inspiration from Wikileaks, Artsleaks was formed by a group of artists, curators and art historians and critics in 2011 to speak out against the appropriation of politically engaged culture and to expose instances of abuse and submit them to public inquiry. Its motto is: "It's time to break the silence!"
"One can speculate how far art 'leaks.' But the idea of leaking, the concept of some information that was not publically known becoming public, is key," Dmitry Vilensky, one of the initiators of the project, told DW.
Vilensky is a member of the Russian art collective Chto Delat? ("What is to be done?"), whose negative experiences working in collaboration with the Pavilion UniCredit gallery in Bucharest - including the non-payment of fees and censorship issues - provided the catalyst for Artleaks.
He and his Artleaks colleague Vlad Morariu were in Cologne this week to discuss the project and the themes of the first edition of their Artleaks Gazette at a salon event titled "Artleaking as a Politics of Truth" at the Academy of the Arts of the World.
London-based Morariu is a Romanian researcher and curator specializing in institutional critique. He got involved with Artleaks six months after it was founded. For him, the project isn't about creating a Wikileaks-style media sensation, rather a critical inquiry into the dependence of artists on the state or the market - what critic Clement Greenberg famously described as "an umbilical cord of gold."
"Our approach is more about highlighting structural problems. The idea of publishing cases is to highlight illnesses in the system as a whole. The platform passes as a sort of repository, like a collection of cases which highlight a certain state of affairs," Morariu explained.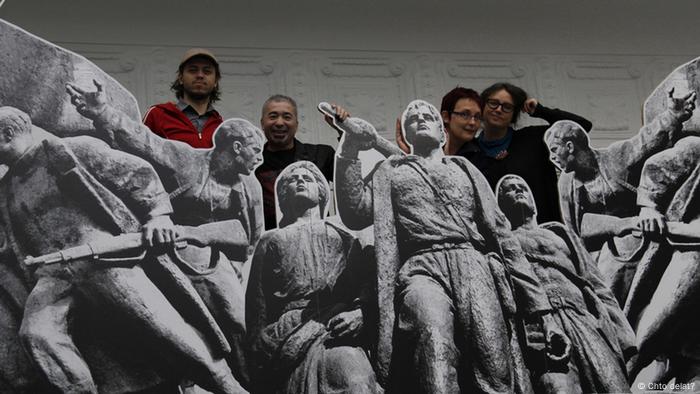 Dmitry Vilensky (second from left) with members of art collective Chto Delat?
Fostering solidarity
And that state of affairs is underscored by the case of Larissa Sansour and the Lacoste Elysée Prize for photography. Sansour was one of eight artists shortlisted for the Swiss Musée de l'Elysée award in 2011 and given a bursary of 4,000 euros (about $5,300) to produce a portfolio of images.
Three photographs from her project "Nation Estate," inspired by the Palestinian bid for UN membership, were selected by the jury. Then a high-ranking employee at Lacoste demanded that Sansour's named be removed from the list of nominees on the basis that her images were "too pro-Palestine." Her name was erased from the website as an official nominee and her work removed from an upcoming issue of Artreview showcasing the nominees.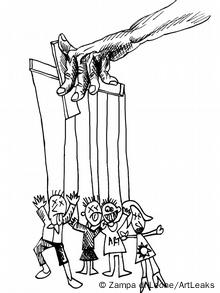 "The idea of publishing cases is to highlight the illnesses of the system as a whole," Morariu said
The museum asked Sansour to approve a press release stating that she withdrew from the shortlist "in order to pursue other opportunities." She refused and, after the incident hit the international press, Lacoste withdrew sponsorship and the prize was eventually suspended.
Sansour's experience is not unique. But by sharing cases via social media and the online platform, the artists, curators and academics behind Artleaks want to encourage others to speak out, and foster solidarity.
"The biggest problem right now is that there are many local struggles and campaigns, but at the same time there is a lack of a general movement where people say, ok, I am part of that. And that's a big political problem which no one knows how to solve," Vilensky said.
For that reason, Artleaks stands alongside groups such as Liberate Tate, a UK collective campaigning for Tate to drop sponsorship from the oil company BP, the Precarious Workers Brigade, and the Critical Art Ensemble.
Taking a stand
Unlike Wikileaks, the cases published by Artleaks are not usually anonymous. The initiators say that the art world is too small and incestuous for sources to remain protected. It's also a way of avoiding what they call gossip and "institutional hush-hush." Submissions to the site need to be accompanied by collective evidence such as first-hand reports, e-mail correspondence, internal documents, or recordings.
"It's not just about showing where something went wrong. It's also about imposing new models of cultural production and possible relations. Sometimes utopian, sometimes very pragmatic," Vilensky said.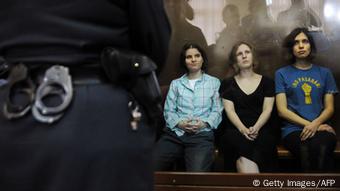 Artleaks also support related causes such as the Russian feminist punk band Pussy Riot
One of those pragmatic models is the "No Fee Statement," which requires employers such as galleries and museums to explain why an intern or artist might be unpaid for their work. It's a small act of resistance that Vilensky says has already resulted in confusion - and outrage - among the small number of gallery owners and curators who have been asked to provide a breakdown of their budgets.
Another interesting aspect of the Artleaks project is the dynamic between people with different experiences and from different contexts, Morariu explains. The project has attracted cases from around the world, with a large number coming from South America, Asia and Eastern Europe, from places where freedom of expression can be a matter of life and death.
"There's a kind of gap between the first world where most of the big corporations and museums are a little bit adjusted to that concept of transparency. Then there's the developing world where money is simply stolen and people don't give a s--t about how they look if you leak or not, you know?" Vilensky said.