The journalist and poet Heinrich Heine was a free spirit, an innovative thinker and a gifted analyst who lived in the wrong land at the wrong time: 19th century Germany, a true patchwork of principalities.
There was no freedom of the press at the time.
The thoughts that sprouted in Heine's mind and which he then laid out on paper were cut short by censors, if not entirely razed, before they could be published and distributed.
Heine refused to resign himself to such censorship. He was sure of his knowledge and sought out the public sphere. Heine vented his frustration in his work, such as in "Travel Pictures": One entire chapter consists solely of blank bullet points and with the words "The German Censors" and "Idiots" floating between them.
A new homeland in France
As a Jew, Heine also suffered from growing anti-Semitism in Germany. In order to escape the repression and live in freedom, he turned his back on his homeland in 1831.
Heine moved to Paris, a city that was experiencing a cultural blossoming. After all, French civilians had just recently set off two revolutions and successfully fought for press freedoms.
It was the era when the high-speed printing press turned the newspaper market on its head. New publications were started and Heine began to report as a correspondent from Paris.
In his new adopted homeland, he became friends with his intellectual contemporaries such as writers Honore de Balzac and Alexandre Dumas and composers Frederic Chopin and Franz Liszt. Heine already could speak French fluently, since he had learned the language through private classes during his time at school.
In any case, the Düsseldorf-born writer (1797) was a huge Francophile. He found Napoleon particularly fascinating.
In 1811, the French emperor marched his troops into Heine's home city and installed the Civil Code, a new collection of civil laws that is often referred to today as the Napoleonic Code.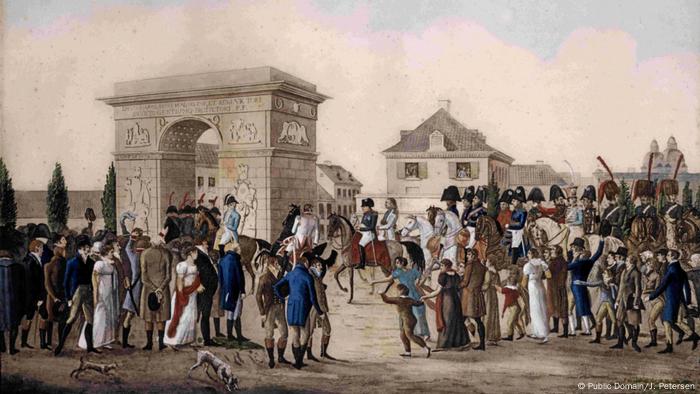 In 1811 Napoleon led French troops into Düsseldorf
At the time, Heinrich was actually called Harry — that was the name given to him by his parents Samson and Betty Heine. Heine's father, a draperies trader, had his own business, but he was forced to declare bankruptcy in 1819 and died nine years after due to the effects of a serious illness.
Heine's mother, the stricter of his two parents, was eager to see her son establish himself among the bourgeoisie and did not want him to take writing too seriously. Despite differences, mother and son had a close relationship with one another. Heine also had three younger siblings: Charlotte, Gustav and Maximilian.
Money from Uncle Salomon
Heine's uncle played an important role throughout all of Heine's life. Salomon Heine was an extremely successful banker who lived in Hamburg and was so rich, that even his being Jewish in anti-Semitic Germany could not affect him. Without the financial help from his uncle, Heine might not have been able to make ends meet as a writer. The money sent to him from Hamburg was at the very least essential during dry spells, whether they were because Heine's texts were not printed or because he spent his work earnings a little too generously.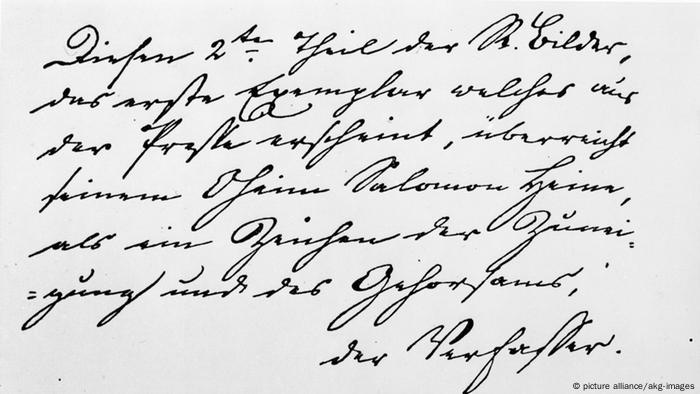 Heine dedicated part of his 'Travel Pictures' to his uncle Salomon, who provided him with invaluable financial assistance
The well-off uncle tied his support to certain conditions. For example, he demanded that his nephew finish his university studies. Heine studied at universities in Bonn and Göttingen — and tried make the best of the typical pathway into the bourgeoisie.
In order to better his job chances, he did something that would later anger him: He converted to Protestantism because he found his Jewish faith to be a career barrier. Shortly after, in January 1826, he wrote, "I am hated alike by Jew and Christian; I regret very deeply that I had myself baptized."
A love-hate relationship to Germany
At the same time, Heine was not the type to mold himself according to other people's expectations, at least not in his writing.
Many of his works reflect his provocative manner, such as when he expressively wrote: "Democracy brings about the end of literature: freedom and equality of style."
It was his unabashed, sharp, sometimes playful and sometimes sorrowful, but always clear language that inspired great German composers including Johannes Brahms, Richard Wagner and Robert Schumann to set Heine's poems to music.
According to German literary critic Marcel Reich-Ranicki, Heine was "the most significant journalist among German writers and the most famous poet among journalists from around the world."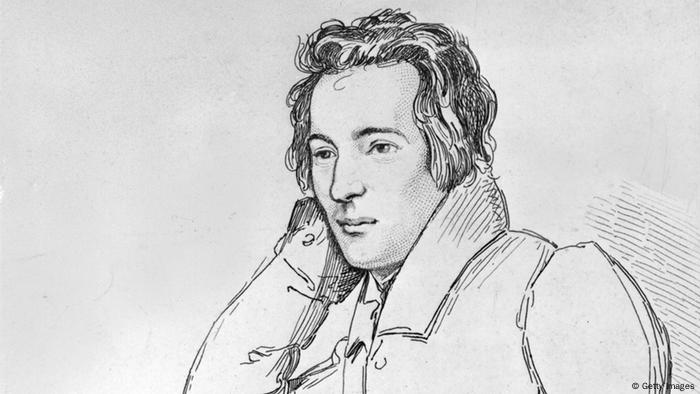 Heine was torn over how he felt about his homeland: Did he love Germany or hate it?
One theme is said to define Heine's work: his ambivalent relationship to Germany, his homeland. Comparing Heine's correspondence clearly brings his inner conflict to light: "The German language breaks my ears. My own poems disgust me sometimes, when I see that they're written in German," he wrote to a friend in 1822, while later in his epic poem "A Winter Tale" he would write:
"And hearing the German language I felt strange beyond all measure;
It was as if my heart began
To bleed away with pleasure…."
Homesickness even in death
The longer Heine lived in Paris, the more clearly he felt the consequences of his exile. More than anything, he was unsettled by his longing for his mother. He soon had to accept the fact that he never would be able to return permanently to his homeland. The risk of arrest was too great.
Before his death, he only traveled home twice. One of those trips gave rise to the famous line, "Thinking of Germany in the night,
I lie awake and sleep takes flight."
In February 1856, Heinrich Heine died in Paris after years of being bedridden by illness. He is buried in the city's Montmartre cemetery.
Discover more about Heinrich Heine and other artists who had to find home in a foreign land in DW's online feature "After the Escape."
You can find the TV documentary on Youtube.
Or watch it directly below: