Police said Saturday they were called to the refugee home in Dortmund's northern Eving district overnight after witnesses reported seeing a crowd of more than 20 masked men brandishing burning torches, chanting xenophobic slogans and letting off firecrackers.
Around 200 police officers were deployed. "When we arrived at the home there was no longer anyone there. Just a few torches lying in the road," a police spokesman said.
Officers overnight arrested 13 suspects in the area on suspicion of violating the Assembly Act. Police also seized a number of items including mobile phones, torches, and clothing from the scene. According to authorities, the individuals taken into custody belong to Dortmund's far-right scene.
"We are doing everything we can to stop this unacceptable provocation and intimidation by right-wing extremists, " Dortmund police chief Gregor Lange said, adding that people who had fled their home countries to escape poverty and violence were in particular need of protection. Police have launched an investigation into the incident.
The city in the province of North Rhine-Westphalia (NRW) is considered a neo-Nazi stronghold.
Press in the firing line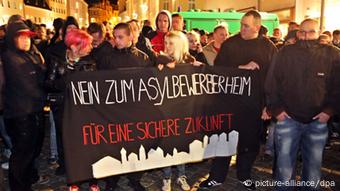 Anti-refugee protesters in Schneeberg 2013: 'No to asylum centers'
Friday's demonstration came just days after anonymous death threats were made against journalists covering Dortmund's neo-Nazi scene. Several local reporters this week found fake death certificates with their names published online.
"At first I laughed: I was pretty sure I was still alive. And I then called my colleagues to make sure they were alive. They were, too," Sebastian Weiermann, one of the targets, told DW. "But, when it sinks in, it really does makes you think."
The prosecutor's office said it believed right-wing groups were behind the threats.
Dortmund is home to the right-wing "Nationaler Widerstand" (National Resistance), banned in 2012 by NRW Interior Minister Ralf Jäger, who called it xenophobic, racist and a threat to peaceful coexistence. The openly xenophobic party "Die Rechte," or The Right, has since emerged there.
About one fifth of asylum seekers who come to Germany are put up in one of the more than 1,000 lodgings in NRW, the country's most populous state. Birigt Naujoks, director of the NRW Refugee Council, said the number of attacks and anti-refugee rallies had increased significantly in recent years.
Since 2000, there have been five murders committed by known neo-Nazis in Dortmund, and a litany of other violent attacks against foreigners.
nm/rc (AFP, dpa, epd)