Supporters of Armenia's protest leader Nikol Pashinian staged further protests on Sunday – two days ahead of a key election that could see Pashinian rise to power. The 42-year-old politician called on his supporters to block roads in the capital Yerevan throughout the day on Sunday and to stage a massive rally in the evening.
Pashinian made comments earlier saying his colleagues in parliament should elect him as the country's next prime minister. Two major parties are already backing Pashinian, but the opposition lawmaker is still six votes short of the 53 he needs from the 105-seat legislature.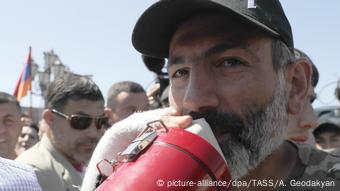 Nikola Pashinian is the only nominee in the race for prime minister at this point
The ruling Republican Party, which has 58 seats, said it would announce its position on Monday. On Saturday, the Republican Party had announced that it would not put forward a candidate.
Pashinian is the only nominee for the post so far.
Armenia has been in the grip of a severe political crisis for the past two weeks, with the country's veteran leader Serzh Sargsyan stepping down after a decade in power in the face of major protests.
The right man for the job?
Earlier this week Nikol Pashinian received a hero's welcome in a number of towns and villages outside the capital as he drove around the landlocked South Caucasus country with his supporters in a convoy.
However, other than his staunch opposition to former Prime Minister Sargsyan, which saw him jailed for more than a year in 2008, the young politician is yet to formulate what he stands for.
Eduard Sharmazanov, vice speaker of parliament and the ruling Republican Party's spokesman, said he doubted that Pashinian was a suitable candidate for the role of prime minister.
Keeping the peace
Observers have meanwhile expressed fears that the disorder in Armenia could destabilize the Moscow-allied nation. Moscow has urged compromise and Russian President Vladimir Putin earlier this week spoke by phone with the interim head of government, stressing the importance of the upcoming election.
The United States on Saturday urged "good faith" in negotiations, with a State Department statement calling for "a resolution that reflects the interests of all Armenians."
Each evening at 1830 UTC, DW's editors send out a selection of the day's hard news and quality feature journalism. You can sign up to receive it directly here.