They are known as Heron, Mikdao, Aladin, KZO or Luna: the 600 types of drones the Bundeswehr currently employs. None of the remote-controlled unmanned aerial vehicles (UAV) are armed, as they are used for reconnaissance missions. The Bundeswehr does not have any armed drones - yet.
The debate about the Bundeswehr buying armed drones has been going on for a while. Defense Minister Ursula von der Leyen said in May the issue needed to be opened up for discussion in society before making a decision, adding: "This societal debate will take place in parliament this summer."
Decision to come
Experts are talking about questions concerning international law, security policy and ethics that come with the use of armed drones in a public defense committee hearing.
A speaker for von der Leyen said she wanted to make a decision based on those talks and announce it in the Bundestag, the German parliament.
According to German tabloid newspaper Bild, however, there already is an internal memo in which von der Leyen is calling for the introduction of armed drones.
This has not been officially confirmed. But news magazine Der Spiegel claims to have similar information. According to the magazine's sources, the defense minister will publicly speak up in favor of buying armed drones in the Bundestag.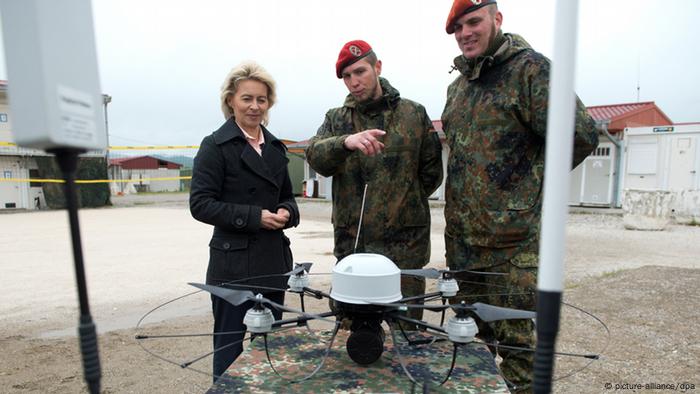 Von der Leyen has not weighed in either way in the drone debate
Conservative politician Florian Hahn supports this course of action. He expects the minister to "take a clear stand for a European development of a drone that has the capacity to be armed," Hahn told Spiegel.
The Green Party on the other hand strongly criticized the plan. They think armed drones are "highly problematic ethically and legally," Katrin Göring-Eckardt, leader of the Green parliamentary group, told Bild am Sonntag, the tabloid's Sunday edition.
The director of the German Bundeswehr Association André Wüstner calls for equipping the Bundeswehr with armed drones. "We need armed drones, because in certain situations, they are indispensable for the safety of our soldiers," Wüstner told DW.
Contentious issue
While von der Leyen's predecessor Thomas de Maizière has publicly spoken in favor of getting armed drones, the current defense minister has held back on the topic. After all, it's a tough subject area to score in politically.
De Maizière almost lost his job in 2013 when severe problems with the reconnaissance drone "Euro Hawk" occurred. And Germans are very aware of the questionable missions the CIA has flown with armed drones in Yemen, Somalia or the Afghan-Pakistani border area. An estimated 3,000 people, civilians among them, have died in US drone attacks. Many Germans think of drones as silent killers.
Drone-opponents at a protest in Berlin
Drone-opponents worry that having armed drones at the Bundeswehr's disposal will lower inhibitions to use them, too. There is also the fear that fully automatic drones will at some point be able to make decisions regarding life or death. UAVs can already take off and land by themselves and - once programmed - fly routes without human involvement.
Niklas Schörning from the Peace Research Institute Frankfurt (PRIF) is worried about the start of an arms race toward more and more intelligent and autonomous weapon systems. "We see that no country in the world is currently developing a modern manned fighter jet," Schörning says. "So to me, this means that the armed drone that autonomously decides when to use force is already deep-seated in the minds of industry reps and military officers."
Strict rules for the use of drones
The defense ministry is currently weighing up a US offer from summer 2013 for three unarmed "Predator B" drones. These drones have the capacity to be armed later.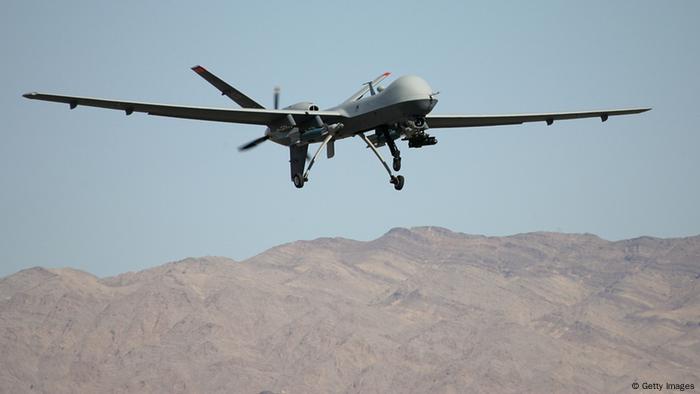 US-drone MQ-9 Reaper: will Germany soon deploy armed drones as well?
Andrej Hunko and Jan van Aken, representatives from the Left Party, filed an official enquiry on this. In the reply, it said that "conceptually, the capacity to be armed is required" for the long-distance drone in question.
"When the capacity to be armed is required from the get-go, the people are being consciously mislead," Hunko criticized in a press statement. He calls the defense committee's hearing an "alibi event."
Niklas Schörnig expects the German government to clearly explain which scenarios they think merit an armed-drone-deployment. He says that if the decision is made to purchase these drones, political conditions for their use need to be established.
"The German deployment rules need to be clearly and restrictively worded and should strongly encourage other states to act the same way," Schörning says.
A concrete decision on the acquisition can only be expected after the positions of former state secretary for armament, Stéphane Beemelmans and former head of the armament department, Detlef Selhausen, are filled again. Von der Leyen relieved both of them of their duties earlier this year, because of problems with defense projects.