Argentine businessmen Hugo and Mariano Jinkis presented themselves at a federal courthouse in Buenos Aires on Thursday, stating their intention to fight a US extradition order.
The Jinkises own the sports marketing and TV rights firm Full Play, which was involved in the scandal that led to the arrests of seven football officials in Zurich on May 27, two days before the annual congress of the ruling body FIFA.
The men were among 14 football and business officials indicted by the US Justice Department in a sweeping investigation into alleged bribery, racketeering and money-laundering.
After their initial hearing, the men were escorted out of the courthouse by Interpol and Argentine police agents. The men kept their faces down and were handcuffed as they were loaded into police vehicles.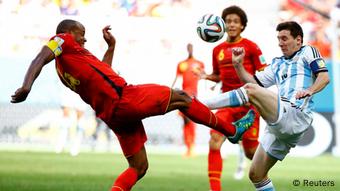 Belgium made the quarters in Brazil, but would have liked to host the 2018 tournament
Jorge Anzorreguy, a lawyer for Hugo Jinkis, told reporters that the men would be detained while the judge decides on their petition.
Belgium considering its options
Meanwhile, Belgium may seek compensation over the 4.5 million euros ($5.13 million) spent on their unsuccessful 2018 World Cup bid, if FIFA's decision to award the finals to Russia is found to be fraudulent.
"If fraud is proven it is obvious to me that we will seek compensation," Belgian Football Federation chairman Francois de Keersmaecker said to Belgian paper "Het Nieuwsblad" on Thursday.
The country made a joint bid with the Netherlands that cost nine million euros. Flemish government sports minister Philippe Muyters told the same newspaper that fraud still needed to be proven.
"But if it was the case, we will, with our partners, look to proceed with a claim," he said.
al/rd (AP, dpa)