The Allied bombing of the eastern German city of Dresden during World War II has in recent years become an opportunity exploited by far-right groups holding demonstrations.
This year, however, some 17,000 people braved freezing temperatures on Sunday to protest against the neo-Nazis by forming a giant human chain around the city.
The thousands of people wore white roses pinned on their lapels and encircled the city center for 10 minutes while bells tolled from the churches. The White Rose was the name given to a group of students in Munich who opposed Adolf Hitler's regime.
"When we remember the victims of the Dresden bombings today, we remember all the victims of Nazi violence and World War II," said Detlef Sittel, Dresden's mayor. "There are so many people here who want to express their opinion clearly and make Dresden a tolerant, friendly and strong city, open to the world."
Reclaiming the city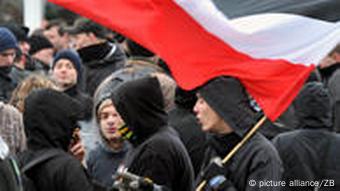 Over 1,000 far-right extremists gathered in Dresden
The Allied air raids over February 13 and 14, 1945 are believed to have killed 25,000 people.
"The people of Dresden are defending their remembrance," said German Interior Minister Thomas de Maiziere, who participated in the event along with other politicians.
Several hundred people also attended a wreath-laying ceremony at the cemetery where many of the bombing victims are buried.
State Premier Stanislaw Tillich said the people had "once again made clear the city is theirs and that there is no space for rightist extremists."
There was a large police presence in the city, as in previous years there have been clashes between far-right groups and anti-Nazi protesters. Some 1,300 neo-Nazis gathered for their so-called "funeral march" at Dresden's main train station.
Author: Catherine Bolsover (dpa/AP/AFP)
Editor: Sean Sinico