If her father had not published her diary after World War II, Anne Frank would have simply been one among six million Jews killed by the Nazis. But the publication of the now famous Diary of Anne Frank lifted the young girl from the anonymous mass of victims and turned her into the face of the Holocaust.
First published in 1947, the book has sold more than 25 million copies and has been translated into more than 50 languages. In 1959, her story was turned into a three-time Oscar winning film.
Anne's account of the war years is now the subject of a Spanish musical as well as several plays and her diary is required reading in schools around the world.
Anne Frank's diary is "one of the most moving testimonies, which can help young people in particular to approach the horror of the Holocaust and its inconceivability," Bernd Neumann, Germany's minister for culture, said Thursday at a memorial ceremony in Berlin to commemmorate what would have been her 80th birthday on June 12.
Neumann emphasized the importance of preserving Holocaust sites: "Places like the memorial at the Bergen-Belsen concentration camp, where Anne Frank died, are indispensible for Germany."
Commemorative events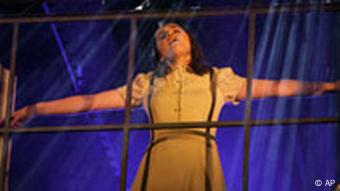 A Spanish-language musical based on the diary of Anne Frank premiered last year
A number of other events are planned, including a special exhibit of photos of Anne and her family and friends in the Anne Frank House.
The memorial center at the former Nazi concentration camp Westerbork in north-eastern Netherlands is also hosting a special historical exhibition for the occasion.
"Visitors can now visualize Anne Frank's three weeks in this transit and labor camp step by stp," Anne Bitterberg, international coordinator of the camp's memorial center, told dpa news agency.
"Visitors will walk where she walked. Historical documents, including several that were retrieved from the Red Cross just two years ago, provide visitors with many details about her stay in Westerbrok," she added.
Among other items on display, there is a postcard from the first boy Anne kissed. The boy, who survived the Holocaust, writes about the kiss - which was also described in Anne's diary.
Putting a face on the death of millions
That famous journal offers readers a glimpse into the mind and emotions of a young girl, shortly before she was packed off to a concentration camp.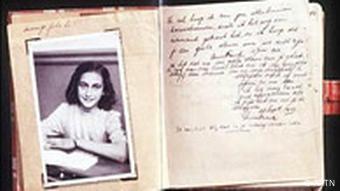 Anne Frank's diary is one of the most-read books ever
Between 1942 and 1944, Anne confided her personal thoughts and problems to the orange-and-grey book, which she received as a gift on her 13th birthday. The diary is a document of the desperate attempts at survival by a Jewish family during Nazi persecution.
"It's an individual fate that gave this horrible number of murdered people a face. That has made Anne Frank a symbol," Thomas Heppener from the Anne Frank Museum in Amsterdam said.
In 1933 after Adolf Hitler came to power, the Franks fled to Amsterdam where Otto Frank set up a company which sold pectin used to make jelly and jams. The family led a normal life until 1940 when Germany occupied the Netherlands and began implementing anti-Jewish measures.
The family hid themselves in a couple of empty back rooms in Otto Frank's office building. While work continued as usual in the front room and storehouses, the Franks lived quietly in the back together with another family.
A staircase connected the two buildings, the opening to which was camouflaged with a bookcase which served as a door. The families depended on several of Otto Frank's loyal employees to bring them food and keep their secret.
Anne and Kitty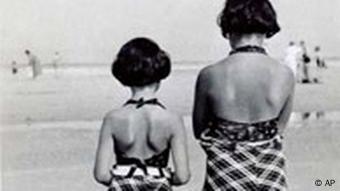 Both Anne and her sister Margot, pictured in 1938, died of typhoid in a concentration camp
It was during this time that the diary became Anne's best friend. She named it Kitty. Anne penned her thoughts and wishes in the diary and described the tensions and quarrels that erupted from a covert life in cramped quarters.
She also detailed nights filled with fear as bombs rained down on Amsterdam or when strangers came to the office during the day and the Franks had to stay absolutely still for hours in their hide-out.
In August 1944, the Franks were betrayed. It still remains unclear by whom. What is known is that the SS, the elite Nazi paramilitary corps, stormed the hide-out and brought the Franks to a labor camp in the Netherlands. Some time later they were transported in cattle cars to Auschwitz and later to Bergen-Belsen, Germany.
In March 1945, just weeks before liberation, Anne and her sister died of typhoid. Of the eight people who hid in the Frank annex in Amsterdam, only Anne's father survived the Holocaust.
Controversy over diary's authenticity
Though Otto Frank's publication of Anne's diary in 1947 sparked interest, it wasn't long before doubts were raised over the authenticity of the document. It took a few years before an authenticated version was published.
"Before that passages that were anti-German had been cut out," Nicolas Berg from the Leipzig-based Simon Dunow Institute for German-Jewish history said. According to Berg, the passages were considered too provocative for post-war German readers.
Finally in 1981, the Dutch state issued an authentication certificate that laid all doubts to rest.
Comprehending the Holocaust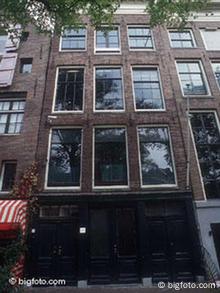 Anne and her family lived in this house from 1942 to August 1944
More than 50 years later, Anne Frank's diary hasn't lost its significance. Heppener said the diary "is also a document of a young girl's adolescent problems." Anne, who describes her discomfort over her maturing body and uncertainty about her first love, gives voice to emotions shared around the world.
"Young women in particular can identify strongly with her story because it throws up questions that are relevant even for teenagers today," added Heppener.
He said that the identification with Anne Frank helps young people gain an introduction to the Holocaust. A young girl who dies in the face of the Nazi death machine allows many to grasp the ghastly reality of the Holocaust, he added.
sb/sp/kjb/dpa
Editor: Chuck Penfold