Amazon is opening its checkout-free grocery store on Monday, moving forward on an experiment that could dramatically alter brick-and-mortar retail.
The Seattle store known as Amazon Go relies on cameras and sensors to track what shoppers remove from the shelves, and what they put back. Cash registers and checkout lines hence become superfluous as customers are billed after leaving the store using credit cards on file.
By combining computer vision and machine learning algorithms, Amazon's AI-based system heralds another big change for the retailer which bought high-end supermarket chain Whole Foods Market last year.
Limited implementation
Amazon did not say if or when it when it would add more Go locations, but said it had no plans to use the technology in the larger and more complex Whole Foods stores.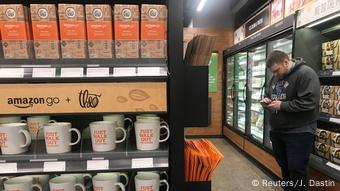 Amazon's Go store looks pretty much like an ordinary store, and that's intended
The 1,800-square-foot (167-square-meter) grocery story in Seattle is located in an Amazon office building. To start shopping, customers must scan an Amazon Go smartphone app and pass through a gated turnstile.
Cameras monitoring from above and weight sensors in the shelves help the company determine exactly what people take. If they pass back through the gates with their items, their accounts are automatically charged.
The system had been tested for one year, overcoming major challenges such as identifying shoppers with similar body types.
Amazon invested heavily in the new technology knowing that long lines deter shoppers and assuming that a company which could figure out how to drastically reduce wait time would have a major advantage.
hg/jd (Reuters, AP)