Armed with banners, colored clothes, drums and megaphones, they marched through the city. Participants of the alternative "summit of nations" were making their thoughts clear on the efforts by government officials attending the UN Rio+20 climate conference to rescue the world, or, at the very least, develop a greener world economy.

Many participants from Africa were among the loud protesters. They came as representatives of non-governmental organizations to Rio de Janeiro. Moussa Goita from the network of African agricultural producers believes their presence has been felt. For him it was important that the voice of Africa could be heard loud and clear in Rio de Janeiro.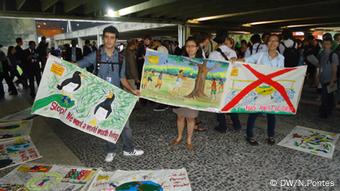 Environmental activitists from Africa say Rio has been a disaster
He points out that Africa is suffering greatly from the destruction of nature and ultimately climate change, although the continent itself is not one of the big polluters."Countries that are deciding here about how to distribute money, that can cure the planet, are the very same countries that pollute the environment and destroy nature," Goita said.
Nature should come first
African representatives were, of course, present at the "Riocentro", the conference center of the Rio +20 Summit. African governments wanted a strong representation in Rio de Janeiro and so Denis Sassou-Nguesso, President of the Democratic Republic of Congo, was appointed as the continent's spokesman.

Sassou-Nguesso is particularly committed to having the United Nations Environment Programme (UNEP), upgraded and transformed into a fully-fledged UN organization. This initiative could be successful, because governments have agreed to continue providing UNEP with financial backing. With its secretariat in Nairobi, Kenya, UNEP is the only major agency of the United Nations to have its headquarters in a developing country.

Meanwhile African leaders had agreed at a joint summit in late May that the mining of raw materials such as ore or coal was doing more harm than good. They said that such mining destroyed valuable land. The leaders also emphasized on the importance of taking into account the value of forests, savannas and coral reefs, before deciding on the benefits of future economic projects.
Disappointment in Rio
African NGOs were not satisfied with the Rio +20 Summit. They were particularly disappointed that the land grabbing, which is the acquisition of arable land sometimes through dubious methods, was not discussed enough.

Floods and drought are a common occurence in Africa
They said the acquisition of large tracts of African land by foreign corporations was contributing to further deforestation of valuable nature reserves. Representatives of African NGOs were therefore appealing to the participants of Rio +20 to take appropriate measures to stop land grabbing.
Idi Ba, a member of the environmental organization Enda Third World (Environment and Development Action in the Third World), did not see any progress on this issue in Rio de Janeiro. He demanded that land grabbing be stopped immediately. "We must say no to land grabbing and yes to land reforms that take into account all stakeholders," Ba said. "We are being robbed of our land we inherited from our parents and we would like to pass this land to future generations," he added.
African solutions to African problems
Africa accounts for just 3.6% of global carbon dioxide emissions
Africa needs its own solutions to environmental problems, the representatives stressed again and again. Sheikh Tidiane Deye also campaigns for Enda Third World in Dakar. He sad: "If we want to change something in our developing countries, then we must first put forward our own resources and ideas on how we can improve our lives, and stop depending on outside help"
With no tangible results emerging in Rio, many activists from Africa saw their worst fears confirmed. Simon Bodea, the general secretary of a farmers association in Benin, believes the real talking had already stopped before the summit started.
"The leaders simply came to Rio de Janeiro to sign a final closing statement," Bodea said.
Author: Noël Kokou Tadegnon / Peter Hille / cm
Editor: Mark Caldwell