After the first few weeks for registration passed without much ado, candidates in Afghanistan rushed to throw their names into the ring to make the October 6 deadline. Some of the candidates didn't register until the very last minute. In the end, 27 names made it to the list for presidential elections, which are due to be held in April 2014.
According to observers, the five most promising candidates are: Abdullah Abdullah, a former foreign minister; Qayum Karzai, brother of the incumbent president; Zalmai Rassoul, who just recently stepped down as Karzai's foreign minister; the Islamist-leaning Abdul Rasul Sayyaf; and Ashraf Ghani Ahmadzai, a former finance minister.
Allegiances and alliances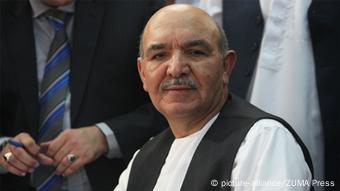 Hamid Karzai's brother Qayum Karzai has a fighting chance
Nothing will get moving without stronger involvement in local politics, according to Conrad Schetter of the Bonn International Center for Conversion. "Qayum Karzai has the best chances; he has a strong following in the south," Schetter told DW, adding that he would have the best chances to carry forward Karzai's politics.
Zalmai Rassoul, on the other hand, could be his number-one challenger. Up until he decided to run for president, he was Karzai's foreign minister. Like Karzai, Rassoul was born in Kabul to a royal Pashtun family. His background alone is expected to secure him a number of votes. Ahmad Zia Massoud, brother of the murdered legendary leader of the Northern Alliance Ahmad Shah Massoud, could pose a great challenge to him, along with Habiba Sarabi, who is currently running with him for vice-president and is Afghanistan's only incumbent female governor.
Abdullah Abdullah, former foreign minister, is not running for the office of president for the first time. He is likely to win a majority of votes among the country's ethnic Tajiks. In the 2009 elections, which were overshadowed by massive fraud allegations, he came in second to Karzai.
Enemies as allies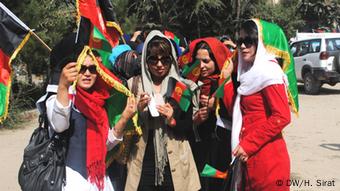 Experts would like to see more local participation
In the game of Afghan politics, avowed enemies have found themselves forming strong new alliances. Among Abdullah's team members is Muhammad Khan of the Hezb-e-Islami. Traditionally, this group has been at odds with Abdullah's party, Jamiat-e-Islami. Both parties fought a bloody war against each other during Afghanistan's civil strife that followed the end of Soviet occupation of the country.
Another alliance has been formed between the highly-educated Ashraf Ghani Ahmadzai and the Uzbek leader and notorious warlord Rashid Dostum. Ahmadzai, who worked for the World Bank, was named as one of the number-one thinkers by the British magazine "Prospect." But in Afghanistan, he does not have much of a support base. For many, it was surprising that Ahmadzai chose warlord Dostum as his vice-president. He "apologized" recently in an online Afghan website to the people who "suffered from our politics" during the civil war.
Islamist candidate
The strategy of presidential candidate Abdul Rasul Sayyaf is to win votes by taking the Islamist route, according to Conrad Schetter. He is teaming up with warlord Ismail Khan from Herat province as vice-president; Khan and his militia control vast areas of Western Afghanistan. In 2003, Sayyaf saw to it that Afghanistan was noted as an Islamic republic in its constitution. According to terrorism experts, in the 1980s and early 1990s, he had close ties to al Qaeda.
Observers expect a number of candidates to withdraw their names if they receive assurances of getting a high political office, according to Nils Wörmer of the Konrad Adenauer Foundation's Kabul office.
Many Afghans have voiced disappointment with the list of candidates. A number of them find it hard to take seriously that people who were once enemies have now formed alliances with each other. Hamidullah, a resident of Kabul, is disillusioned: "We were all feeling quite confident about the upcoming elections. But now that we have seen the candidates, many have given up hope," he told DW. "They are all warlords who are now all playing on the same team against everyone else."
Women disappointed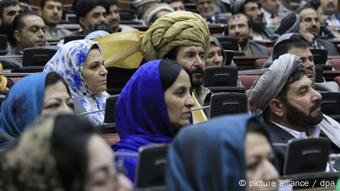 Women fear a regression of their rights
Regarding the role of women in Afghan politics, observers are not expecting that the elections will change much. Shukria Barakzai, a female MP, fears the role of women in politics will be restricted. Even now, she explained, one could see that only few women were willing to take on the danger tied to political activity. But at least there is one female candidate among the 27. And for the provincial elections, which are also set to take place next spring, there are 273 women among the 2,360 candidates.
The low participation rates are not due to a lack of interest among women in politics, but to the fact that they are "systematically kept out of them," said Adrienne Woltersdorf of the Friedrich Ebert Foundation in Kabul. "Very recently, the number of seats allocated to women in the provincial councils was reduced after a vote by the male majority in parliament." Woltersdorf is of the opinion that the big change the international community had hoped for Afghanistan's women has yet to be seen.