Afghan officials say that at least 15 civilians were killed on Friday in two separate attacks in different parts of the country.
In one incident, a suicide bomber blew up his explosives-laden car near a convoy of NATO troops in the eastern city of Jalalabad, killing at least three civilians, police and health officials said.
Taliban spokesman Zabihullah Mujahi said his group was behind the attack.
The other attack, in which a minivan was hit by a roadside bomb in the southeastern province of Ghazni, killed 12 civilians.
The deputy provincial governor, Mohammad Ali Ahmadi, said six women and children were among the dead, adding that the minivan had been taking Hazara Shiite Muslims to a wedding.
No one has yet claimed responsibility for that bombing, but Taliban militants frequently use roadside bombs to attack foreign and Afghan forces. They seldom admit to carrying out attacks in which civilians are killed or injured.
Precarious security situation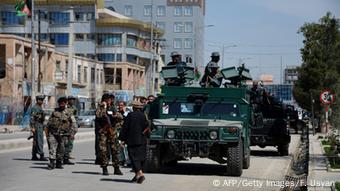 Militants attacked the courthouse with guns and grenades
Friday's bombings come as the death toll from Thursday's six-hour-long attack on a courthouse in the northern city of Mazar-e-Sharif rose to 18. The Taliban have also claimed this attack, which occurred in what is the usually safe province of Balkh.
Afghan President Ashraf Ghani on Friday released a statement in which he "strongly condemned the group terrorist attack in which a number of women and children were martyred and many others were wounded."
The attacks underline the fragile security situation in Afghanistan as US-led foreign troops pull back from the frontlines after fighting against Taliban militants for 13 years. NATO's combat mission formally ended in December, but a small foreign force has remained to train and support local security forces.
Militant violence is expected to escalate still further as the traditional spring fighting season gets underway, with the Taliban vowing to continue their insurgency.
Civilian casualties in Afghanistan jumped 22 percent to 10,548 killed and wounded last year, with the United Nations Assistance Mission in Afghanistan attributing the rise to an intensification of ground fighting.
tj/jil (AFP, dpa)