The Alternative for Germany (AfD) party on Friday said it had filed a complaint against the German government's decision to waive asylum European asylum rules and open Germany's borders to a stream of refugees in 2015.
In its lawsuit at Germany's Constitutional Court, the party claimed that the decision by Chancellor Angela Merkel was unconstitutional because parliament should have been consulted on such a key issue.
On August 25, Germany decided to suspend the Dublin Regulation for refugees from Syria, which meant that refugees from that country no longer had to be sent back to the first EU country that they entered.
Merkel announced at the time that there should be "no legal limit to refugee numbers." Critics have said this made Germany a preferred destination for many migrants entering the European Union via the Balkan and Mediterranean routes.
Read more: Angela Merkel defends Germany accepting 10,000 UN refugees
The AfD said it was filing the lawsuit to expose the "tyranny of the unjust."
Lawsuit 'could change the world'
The complaint specifically asks the Karlsruhe-based court to scrutinize a decision in early September 2015 to keep the border between Austria and Germany open and not to turn would-be asylum applicants away. The party said the complaint had been filed on Monday, with the court yet to decide if the case will be heard.
"This lawsuit could change the world. And it will change the world if it's successful," said Stephan Brandner, who said Merkel should stand down if the case went against her.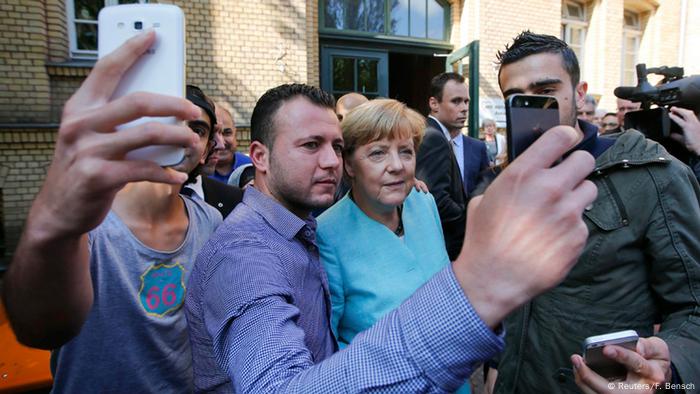 Merkel said she would not allow an upper limit on the number of refugees allowed into Germany
While Merkel's refugee policy has proved popular with some, it also appears to have led to a rise in support for parties such as the AfD.
Read more: German Cabinet approves new refugee family reunification law
Bavaria's Christian Social Union (CSU), the sister-party to Merkel's Christian Democrats, suffered significant losses in Germany's 2017 general election. A large swathe of voters appeared to have transferred their allegiance from the center-right party to the AfD. Bavarian state elections are scheduled for October 14. Polls show the CSU may lose its absolute majority.
With Germany's two largest parties working together in a grand coalition, the AfD is the German parliament's largest opposition party. It won 12.6 percent of the vote and has 94 seats in the Bundestag.
In addition to the AfD complaint, Merkel has seen more than 1,000 complaints for treason brought against her since the refugee crisis in 2015.
rc/sms (dpa, epd)