The German maker of sportswear and equipment Adidas-Salomon announced Wednesday it was launching a 3.1-billion-euro ($3.8-billion) bid to buy US rival Reebok. The boards of the two companies decided that Adidas would purchase the outstanding Reebok shares for $59 (48 euros) a piece, a premium of 34.2 percent over the closing price of Reebok shares had on Tuesday evening.
The deal is yet to be approved by Reebok shareholders and anti-trust authorities, and is expected to be finalized in the first half of 2006.
Increased market presence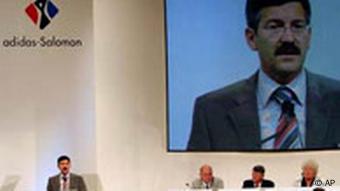 It's been a good year for Adidas executive board director Herbert Hainer
The complementary strengths of the two brands in different geographic locations and consumer segments will provide a significant opportunity for value growth.
We will gain an unprecedented presence on the market," said Adidas executive board director, Herbert Hainer.
Reebok has a particularly strong presence on the US market with NFL (National Football Association) and NBA (National Basketball Association), whereas Adidas' traditional strongholds are the world soccer body FIFA, Olympic games and European soccer Champions League.
Reebok chairman Paul Fireman, who holds 17 percent of the sports-shoe maker along with his wife Phyllis, has already signalled he would sell his shares.
"Adidas is the perfect partner for Reebok. The transaction provides our shareholders with good value for their shares and our employees with an opportunity for an even more exciting future," Fireman said.
Catching up with Nike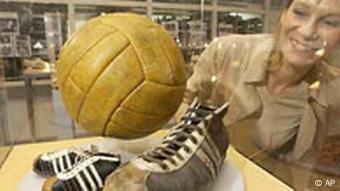 A sense of history: the Adidas Shoe Museum in the Bavarian town of Scheinfeld
Adidas is the world's second largest producer of sportswear. Its earnings raced ahead in the second quarter, boosted by strong demand for its running shoes.
Adidas booked net profit of 67 million euros ($82 million) in the period from April to June, up 48.5 percent from the year-earlier figure. Operating profit was up 24.6 percent at 153 million euros and sales rose by 8.2 percent to 1.516 billion euros.
"The first six months of 2005 were important for Adidas-Salomon," Heiner said. "We have made our business essentially stronger and more efficient."
In May, the German group announced it had agreed to sell its French subsidiary Salomon to Finnish firm Amer Sports Corporation for around 485 million euros. Salomon specializes in winter sports, alpine and cross-country skis, snowboards and inline skates. Salomon will change owners in September.
With the purchase of Reebok, Adidas will close the distance with its arch-enemy and world leader Nike. According to expert estimates, Nike currently dominates around 30 percent of the world market. Adidas and Reebok put together will control around 20 percent.
World cup fever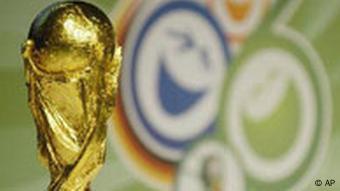 FIFA World Cup in Germany 2006 is expected to drive additional sales for Adidas
Although no international sporting events on the scale of the Olympic Games are planned in 2005 that could serve as sales catalysts, the sport industry, and Adidas, in particular, is counting on the FIFA World Cup, which will take place in Germany in 2006, to drive sales in the second half of this year as well.
Worldwide market potential for the soccer business is estimated to 2.6 billion euros in 2005 and is expected to rise to 3 billion euros in 2006.
Investors were initially taken by surprise by Adidas' announcement it was taking over Reebok. Adidas shares hit an intra-day low of 141.50 euros early in the session, down 4.0 percent on the day.
Soon, however, investors began to warm up to the idea and were also cheered by the better-than-expected second-quarter results. In late morning trading, Adidas shares had come off their lows to show a loss of just 0.24 percent at 147.16 euros.