Every day as many as 80,000 tourists flock to the Italian city of Venice, drawn by its exquisite architecture, charming canals and beautiful lagoon.
But all that is at risk of disappearing. Not only is the water level rising due to global warming, but big development projects are putting more and more environmental pressure on the city and its lagoon. A new tourist town near the airport is under construction and there are plans to open the harbor to 5,000-passenger cruise ships and to build a high-speed rail line and a subway under the lagoon.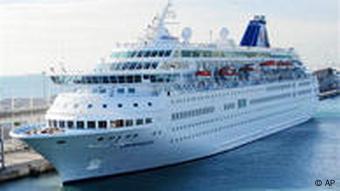 Cruise ships bring their dirty exhaust into the cities they visit
"All this speculation is threatening the town and the lagoon itself," said Alessandra Mottola Molfino, the head of the heritage group Italia Nostra.
She said the construction disrupts the natural habitat of the lagoon, and that the damage done by the massive numbers of tourists will only get worse. The smaller ships are already creating an exhaust problem, she warned.
"Three of these big ships come each day and in one day each pollutes as much as 15,000 cars," she said.
Italia Nostra says it wants to ban cruise ships in the harbor and to require big groups to have to book ahead of time before visiting the city.
Choices to make
Another major concern for activists is the biggest construction project currently underway - an almost 6-billion-euro ($8.7-billion) project that will use massive mobile barriers around the lagoon to keep high tides from flooding the city.
But Cristiano Gasparetto, a former member of the city's Commission to Safeguard Venice warned that despite the high price tag, the Mose project will only stop the highest floods - about three out of 80 that affect Venice each year. With rising tides, they might eventually need to be closed all the time and could transform the lagoon into swamp.
The city's government and its developers have a choice, Mottola Molfina said.
"They can eat Venice now, or leave it for the future," she said.
Author: Megan Williams, Venice / hf
Editor: Michael Lawton