Sigmar Gabriel seems to be struggling to keep his much-vaunted promise to reduce Germany's weapons exports. On Monday, the German economy minister was forced to defend damning figures in the latest weapons export report, which showed that he had presided over a doubling in the number of weapons exports from 2014 to 2015 - reaching the highest figure this century.
"In 2015, individual approvals were granted for the export of defense goods of 7.86 billion euros ($8.76 billion)," said the report, leaked to newspaper "Die Welt" ahead of its approval by the German cabinet on Wednesday.
Gabriel took to the "Süddeutsche Zeitung" to explain himself. For one thing, he told the paper, many of the deals stemmed from the last German government which left office in 2013, when his Social Democratic Party (SPD) was not in power.
One of these was the 1.66-billion-euro deal to sell Leopard tanks to Qatar, which he said, "I unfortunately was not able to reverse." Qatar is involved in the civil war in Yemen and has been accused of supporting, or at least tolerating, support for the "Islamic State" militia group in the Syrian war.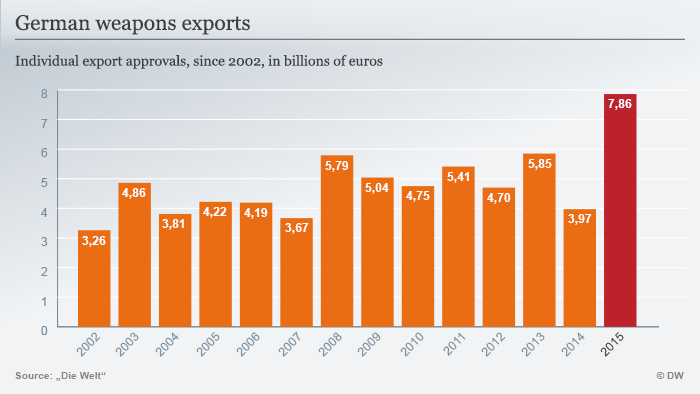 'Safe' partners
Gabriel also said that the figures were inflated this year by a particularly large sale to an allied country: Britain, who bought four military tanker planes for a total of 1.1 billion euros, a sale that the minister considered "completely unproblematic."
Not only that, he argued that since arms sales to so-called "third-party states" - those outside NATO and the European Union - had to be approved by the Federal Security Council, he could not be held accountable for them. The Federal Security Council is made up of Chancellor Angela Merkel and her top ministers, including Gabriel.
But opposition politicians didn't think much of Gabriel's explanations. "These are completely ridiculous excuses," said Jan van Aken, Left party veteran and former United Nations chemical weapons inspector. "There is one big deal every year - in 2014 it was submarines to Israel. Even if you take out the big deals in 2014 and 2015, you still have a doubling."
Taking responsibility
Jürgen Grässlin was even angrier at Gabriel's explanations. Germany's most vociferous anti-weapons activist did not think much of the suggestion that selling military planes to the UK was "unproblematic." "You're delivering tankers for bombers that then intervene anywhere they like," he told DW. "Whenever military planes intervene there is a large number of dead civilians."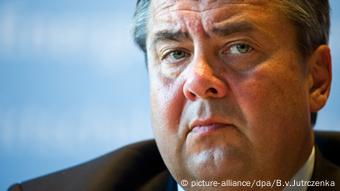 Gabriel promised to reduce German arms sales - he's done the opposite
Grässlin also said that Gabriel was "factually completely wrong" to say that such deals could not be cancelled (indeed, paragraph 7 of Germany's arm's control law states that "approval can be withdrawn at any time"), especially if there is a danger that the weapons will be used in a "peace-disturbing action."
Van Aken also said it would have been perfectly valid to cancel Qatar's tank deal - especially since the Arab state is involved in a war in Yemen where thousands of civilians are being killed and thousands more are fleeing. The UK has previously cancelled deals with Saudi Arabia that have actually already been formally approved, as has Germany, which cancelled defense firm Rheinmetall's sale of a weapons test facility to Russia in response to the war in eastern Ukraine.
Nevertheless, Gabriel is the only member of the cabinet to even make an issue of Germany's booming arms trade (the country recently regained its place as the world's third biggest arms dealer, according to "Jane's Defence Weekly").
"On the one hand, as economy minister he is responsible for arms exports, and he spoke out against weapons exports in his election campaign, and now he's doubled them," said van Aken. "But on the other hand, the CDU [the conservative wing of the German government] is of course applying massive pressure for more weapons exports. And apparently he has lost that fight."
For Grässlin, Gabriel's policies amount to no less than accessory to murder, and his German Peace Society (DFG-VK) has called on him to resign for "unscrupulous weapons exports." "Even if he is being overruled by the chancellor and the CDU, it's his department, and he has to stand up for these deals," said Grässlin. "It's not enough for him to say, 'I'm really sorry, it wasn't my decision,' he has to say, 'I'm not doing this, I will veto it' and if he is still overruled, then he can draw political consequences. It's dishonest politics. This is how politics is constantly being undermined."
An honest strategy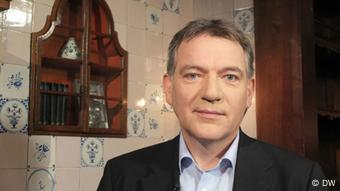 Jan van Aken said it was clear Germany's system was broken
Assuming, as van Aken believes, that Gabriel is sincere about his election promises, what can he do to turn the trend around? "He has to recognize now that his way has completely failed," van Aken told DW. "His way was to reduce certain things within the current system. But what we need now is specific, defined bans."
The German government currently tries to regulate weapons exports through "end-use controls" - agreements designed to tie buyers to promises about what weapons can and can't be used for. This, according to van Aken, blatantly doesn't work, even when the buyers are NATO allies like the US. "Two years ago, for example, the US simply passed on 100,000 German handguns to Colombia, in spite of German export law - for small arms, there are no safe countries," he said.
Gabriel insisted that the reduction in the sale of smalls arms from 47 to 32 millions euros was a success. "These weapons are particularly dangerous, since these are the weapons for civil wars," he told the SZ.
"On this point he really has achieved something," conceded van Aken. "But it's not enough because there are still small arms going to the Arabian peninsula. He has at least managed two small steps. What he hasn't managed is the big step - to ban all small arms exports."