FIFA's head of women's football Tatjana Haenni said on Friday that she thought the players were not interested in whether or not FIFA President Sepp Blatter and Secretary General Jerome Valcke - who have headed the football governing body amid a series of corruption scandals - would be in attendance at the final game.
"That Mr. Blatter and Mr. Valcke are not here, I think that's another topic, but for women's football and the tournament itself I think they deserve the best ending of the tournament," Haenni said during a press conference on Friday.
"Who hands the trophy over and who is in presence and what kind of dignitaries we have and what kind of politicians are in the stands, is maybe for the teams playing at that time and the spectators not so important," Haenni added.
Blatter's absence at the final game and closing ceremonies will be the first time since he assumed presidency of football's governing body in 1998.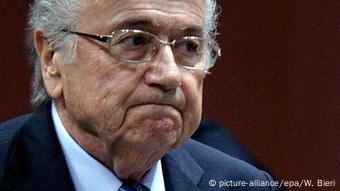 Blatter is to be absent from the final game and closing ceremonies for the first time as FIFA president
Although Blatter was not targeted by an indictment from the US Department of Justice, which announced in May that it had indicted nine current and former FIFA officials, the FIFA president presided over the governing body during many of the events called into question.
'Players don't care'
Canadian Soccer Association (CSA) President Victor Montagliani echoed Haenni's thoughts at the tournament's final press conference.
"The players don't care who gives them the trophy to be quite frank with you…It's the prerogative of the president or anybody in FIFA to go to any competition they want," Montagliani said.
"The choice was made, but I actually think in light of the circumstances the focus needs to be on the two games and the players that are in it, not the suits that run football," Montagliani added.
The Women's World Cup has been called a success with CSA officials saying that more than 1 million fans have attended games throughout the tournament.
ls/rc (AP, Reuters)