Former foreign minister and opposition member Abdullah Abdullah (pictured above) is in the lead so far, the country's independent election commission said Saturday (26.04.2014) at a press conference in Kabul. He has 44.5 percent of the vote in the Afghan presidential election, which was held on April 5. In order to become president, a candidate would need more than half of the votes.
In line with the Afghan constitution, a runoff election must now take place between the two leading candidates. This was confirmed by Ahmad Yusuf Nooristani, head of the election commission: "According to our results, it looks as though the election process will have to go into a second round."
The runoff will see Abdullah go up against Ashraf Ghani Ahmadzai, who has received 31.5 percent of votes, according to preliminary results also published Saturday.
Former Finance Minister Ashraf Ghani was named by the British magazine "Prospect" as one of the most influential men of our times. Although he didn't garner many votes in 2009, this election has proved more successful.
For Abdulah Abdullah, on the other hand, this year's results seem to be a repeat of those from 2009, when he also made it to the runoff with Hamid Karzai. Back then, though, he refused to contend due to "manipulation" of the elections. Incumbent President Hamid Karzai is not allowed to run for office for a third term.
Positive election process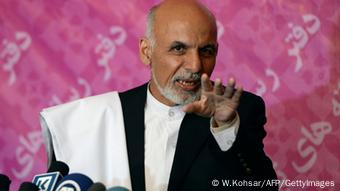 It could be a close race between Ashraf Ghani (pictured here) and Abdullah Abdullah
Contrary to what many observers had expected, the election was relatively peaceful this time around. That is due mainly to two factors, according to Nils Wörmer, who heads the Konrad Adenauer Foundation's Kabul office: "For one, there wasn't much violence and for another, there was a very high voter turnout. In the run up, many observers thought that the elections wouldn't be able to take place or that they would be overshadowed by violence."
There were, incidentally, a high number of planned attacks, but Afghan security forces were able to thwart most of them from being carried out.
Aside from the fear of attacks, fraud was another great concern for Afghan voters. There is evidence that there was some ballot rigging, according to Wörmer. "Nonetheless, it must be said both Abdullah and Ashraf Ghani are so far ahead with the number of votes they received that they cannot have all been fraudulent."
Extent of manipulation unknown
The extent of election fraud is difficult to determine. Candidates will be given one day to challenge preliminary results published Saturday. The Afghan election complaints commission will then have a few weeks' time to investigate allegations of fraud.
Final results are expected to be announced May 14, by which time any manipulation or fraud must be brought to light. Experts expect the commission to uncover most cases of fraud in remote provinces, where the election was more difficult to oversee.
One case in particular has recently been a cause of furor in Afghan media. After seeing that all of the ballots had gone to a single candidate in a number of polling stations in the western city of Herat, the complaints commission reacted by declaring around 100,000 ballots invalid.
Revocation of the ballots, however, "did not take place within the deadline set by the complaints commission," noted Naser Khazey, who is a member of Abdullah's election team in Herat.
Commission officials simultaneously reported they had been receiving threats from Abdullah's team. Whether or not the votes from the city of Herat will be counted remains unclear at this point.
Runoff or coalition?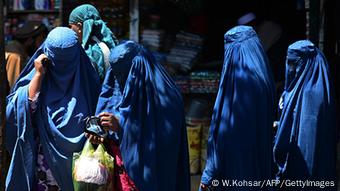 The April 5 election saw high voter turnout, including among women
Up to the last, Abdullah had been optimistic about being able to secure the position. Now, however, it has become clear that another round of voting will be necessary before Afghanistan can name a new president.
Wörmer pointed out one way to avoid a runoff vote: "One of the candidates could turn down a runoff election in return for a chance to participate in government nonetheless." At the moment, however, no such deal is in sight. "Right now it looks more like both candidates will try to create a strong coalition for themselves so they can win the next round of voting," Wörmer explained.
But in that case, Abdullah might not come out as the winner. It also remains in question whether voter turnout would be as high in a second round of polling. This has already been set to take place on June 7.