"Come on," shouted my friend James, who had come to visit me in Berlin and, at that moment, was climbing through a hole in a fence to an abandoned theme park he had found in his guidebook.

Carefully, my other friends and I followed him through. We were on our way into Spreepark, one of a number of abandoned sites throughout the city becoming popular with tourists looking for something beyond the normal Berlin attractions like Brandenburg Gate, the Reichstag and Alexanderplatz.

Inside the park, we walked past grounded swan boats and old safari cars overgrown with grass and weeds. Some of my braver friends climbed into the large ferris wheel at the center of the site, which eerily began to turn, prompting them to quickly make their escape from the rocking car.

Lured by the excitement of seeing something off the beaten track, we were not the only ones wandering around in amazement at the ruined theme park. But as it began to get dark and the desolate grounds that once buzzed with the thrill of the rides began to empty, we quickly searched for a way out.

Opened in 1969 as one of the GDR's star attractions, Spreepark Plänterwald was popular among East Germans. However, after the fall of the Berlin Wall in 1989, it was visited less and less frequently and finally closed its gates in 2002. It later found itself at the center of a drug scandal involving the former owner Norbert Witte, the story of which was portrayed in Peter Dörfler's 2009 film "Achterbahn" (Rollercoaster).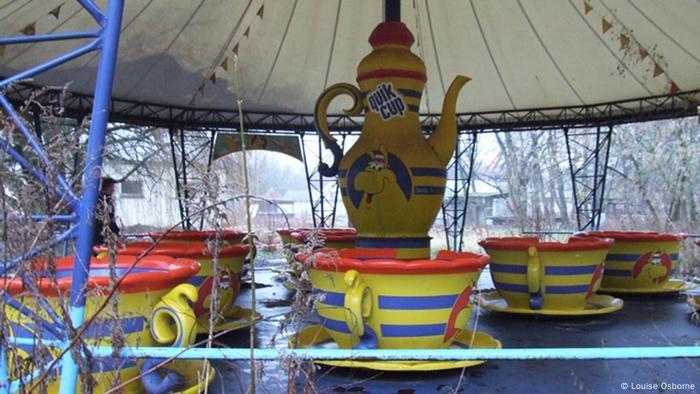 Spreepark's teacups stand idle


Romance and thrills

The trip to Spreepark sparked my curiosity and I began to look for other abandoned spaces to explore. Berlin's turbulent 20th-century history following the Second World War and the fall of the Berlin Wall has left the city with many.

In addition to Spreepark, other abandoned sites that have become increasingly popular include the 1936 Olympic Village in Estal, Wustermark on the western outskirts of the city and the Beelitz-Heilstätten Tuberculosis Sanatorium. A short train ride to the south west of Berlin, the sanatorium, rumored to be haunted, was opened in 1902 and was in use until the fall of the Berlin Wall.

"There's a certain romance to abandoned buildings, even if they can be filthy, run-down, rat-infested and perhaps home to the type of people you wouldn't normally bring home to your mother for Sunday dinner," blogger Irish Berliner, who captures his own adventures in his blog Abandoned Berlin, told me. "Maybe there's also the thrill of being caught. Some people are into the arty photos they can take. Perhaps it's all those reasons combined."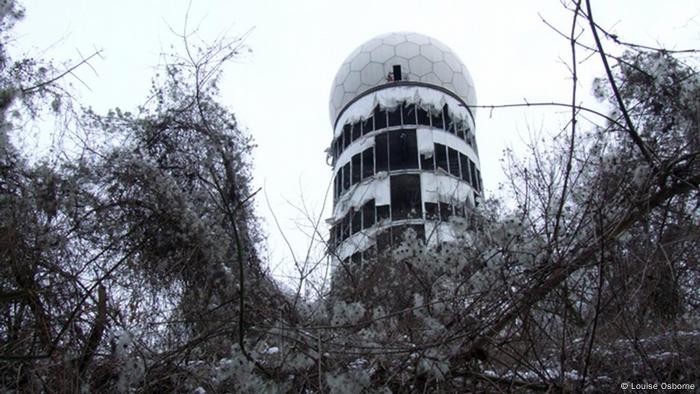 Teufelsberg was used as a listening station during the Cold War


Rubble hill

My next excursion was Teufelsberg (Devil's Mountain). The manmade mound had been constructed the rubble of war-damaged West Berlin on the site where the Nazis had intended to build a university complex.

Later, during the Cold War, the Allies built a listening station on top of Teufelsberg to spy on communist East Berlin. The station was abandoned after the fall of the Berlin Wall, leaving the radar domes behind as empty shells.

Reaching site, fenced off but with holes allowing access, just means an easy trek from the nearby Heerstrasse tram station and up the hill. Again, we were not the only ones picking our way through the debris into derelict site: A number of families were there, sledding down the snow-covered hill.

Walking past a lift that had collapsed at the bottom of its shaft (clearly not the way to reach the top of the imposing tower) we came across people snapping photographs of graffiti-covered walls and filming their adventures. Climbing to the top of the stairs, we were greeted with a view that arguably rivals the paid-for alternatives offered by places such as the TV tower on Alexanderplatz or the Berlin Cathedral.

"There are definitely a lot more people into [visiting abandoned places] than, say, when I first came to Berlin," said Irish Berliner. "At least it seems that way from the amount of people visiting the blog. Maybe they were always into it and they're simply bolder, braver and more open about it now than before."

After my mini-adventures, I for one can't wait to discover more of the fascinating history behind Berlin's abandoned.

Click on the audio slide below for a look at more Berlin history.

Author: Louise Osborne
Editor: Kate Bowen