Having barely recovered from the consequences of the multi-billion-dollar Commonwealth Games and telecom spectrum scams, the Indian government was again in a spot when yet another political scandal broke. The audit watchdog body, the Comptroller and Auditor General of India discovered that 210 billion US dollars of the country's revenue has been lost in a coal scam - also known as "coalgate" - of enormous proportions.
It led to several gridlocks in parliament and more protests that infuriated lawmakers and added to India's mounting sleaze woes.
But a flip side to the rising number of scandals was that it gave fresh vigor to the anti-corruption movement, which, led by civil society, energized India's influential middle class.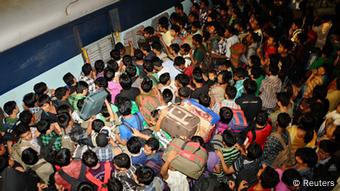 Thousands of Indians left their homes in the south amid a wave of sectarian violence
Only this time around, the movement was led by Arvind Kejriwal, a former revenue official who launched the Aam Aadmi Party (AAP), after parting ways with his mentor Anna Hazare. His objective was clear: Expose people in high places, i.e., politicians and businesspeople.
"This was a year of collapse in governance. Policy paralysis still exists and it seems as if the government is in a comatose state. It was non-responsive and even arrogant toward demands from civil society," psephologist G. V. L. Narasimha Rao told DW.
In 2012, India also suffered one of the world's worst power blackouts ever, with over 600 million people left in the dark in eight states. Some areas were left without power for days.
Fresh wave of reform
But seemingly undeterred by the series of scams, the ire of opposition parties and the walkout of a key ally, the Trinamool Congress, Prime Minister Singh's beleaguered coalition government unleashed a wave of second economic reforms.
In what was also an attempt to revive his image, the 80-year-old prime minister backed a number of reforms, including cutbacks in fuel subsidies on diesel and liquefied petroleum gas (LPG), and loosening caps on foreign direct investment in sectors such as aviation, telecom and the single- and multi-brand retail sectors.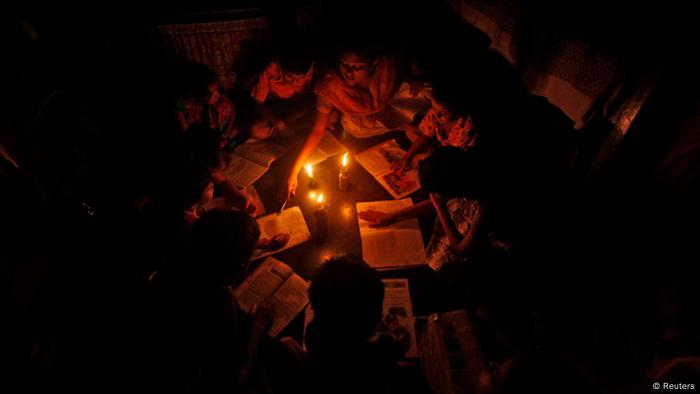 Some people had to cope without electricity for days at the end of July
"To combat economic despair which was impacting private consumption and the investment climate, the government had also to counter the challenge of slow growth, high inflation and fiscal deficits," economic analyst M. K. Venu told DW. "These reforms should give the economy a fillip."
But some analysts believe the reforms came too late. "From all the events and happenings this year and even before, it is amply clear that political parties are losing their credibility. There is tumult in the country. This is cause for worry and we increasingly find that all movements are being led by non-party activists," sociologist Dipankar Gupta told DW.
Indo-Pak relations
The lone Pakistani terrorist caught alive after the 2008 Mumbai terror attacks, Ajmal Kasab, was hanged at the high-security Yerwada Central Jail in Pune less than a week before the fourth anniversary of the carnage. India offered to hand over his body to his relatives but Pakistan refused and Kasab was given a quiet burial inside the jail premises.
On the diplomatic front, Pakistan and India signed a liberalized visa agreement, easing restrictions for travelers. It was widely perceived as a step toward warming relations between the rival neighbors after years of heightened mistrust and antagonism.
Violence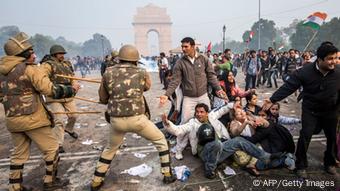 Protests over the gang rape of a university student turned violent in December
In July, sectarian violence broke out between the indigenous Bodos and Bengali speaking Muslims in the northeast state of Assam. Nearly 80 people were killed and over 400,000 people were displaced.
The year ended with the most gruesome act of violence against women in recent times. The gang-rape of a young medical student on a moving bus in the capital New Delhi sparked protests, outrage, condemnation and calls for action. Demonstrations in the capital turned violent after a week and the government had to send in security to disperse the angry crowds.
Ultimately, the government reacted and vowed to implement stringent laws against rapists and molesters in the New Year. For those calling for the death penalty for rapists, however, these laws will surely not suffice.