The official program for Wednesday, the third day of Israeli President Reuven Rivlin's visit to Germany, was fairly straightforward. At 9:50 a.m. he was to meet with Thorsten Albig, the premier of Schleswig-Holstein state, and hold discussions with students. By 11:50 Rivlin's official visit to Kiel was to be over.
But he didn't travel all the way from Berlin to Germany's northernmost state for just two hours. There was more to Rivlin's schedule - unofficially and without the media. He also planned to visit the shipyards in Kiel where Israel's modern submarines were built and where the keel will soon be laid for four Israeli navy corvettes.
'Proof of good relations'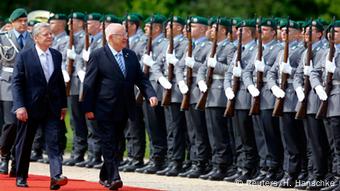 Presidents Joachim Gauck and Reuven Rivlin had a lot to talk about
The purchase agreement for the four warships, worth 430 million euros ($480 million), was signed in Tel Aviv on Monday. It came the day before the 50th anniversary of the establishment of diplomatic relations between Israel and West Germany.
"This is proof that the German-Israeli armaments cooperation works" Christian Democrat lawmaker Roderich Kiesewetter told DW. The chairman of the parliamentary foreign relations committee wants Germany to co-finance the deal - as well as with many other previous arms transactions: "In this way we not only equip the Israeli navy and improve its defense capabilities, but also ensure that Israel has a certain level of deterrence in its region and ultimately show that Israel can rely on its European partners."
The German government is expected to support the purchase of the corvettes to the tune of at least 115 million euros. But only the ships will be built in Kiel - all military hardware such as weapons and sensors will be installed in Israel. Then the four ships will have a total value of at least one billion euros. They are unlikely to be ready for use before 2022 at the earliest.
Arab involvement
An interesting detail of the deal is that the German shipbuilder, ThyssenKrupp Marine Systems (TKMS), designed the ship type, but does not build it. This is done by German Naval Yards, also based in Kiel, as a subcontractor. This shipyard previously belonged to TKMS, but it was sold three years ago to the shipbuilding group Abu Dhabi MAR, headquartered in the United Arab Emirates. In other words: an Arab company is building warships for Israel on behalf of a German company.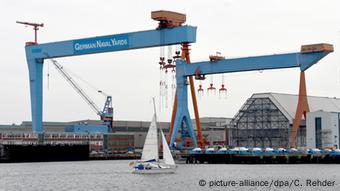 Kiel's UAE-owned shipyard builds vessels for Israel
The new naval deal is not the first between Germany and Israel. Since 1999, TKMS has been supplying Israel with Dolphin-class submarines. A total of six will have been built by 2018. An Israeli crew is currently in Kiel to test the fifth submarine, the "Rahav." It is likely that Rivlin not only visited the shipyard, but also met the crew and examined Israel's newest weapon.
Nukes on board?
For years, the Dolphin submarines have raised a question in Germany: Could Israel use the submarines to launch nuclear weapons? Naval expert Klaus Mommsen assumes that Israel has, or is planning, an air, land and sea-based nuclear deterrent - "Perhaps also using the submarines of the Dolphin class. But Israel is keeping silent - as it generally does on the question of whether it possesses nuclear weapons."
Israel relies on German-built submarines
"I would not conclude that all of Israel's submarines are always armed with long-range cruise missiles - whether nuclear or conventional," Berlin peace researcher Otfried Nassauer said.
He dismissed the possibility that Germany had provided a weapons system that could fire nuclear missiles on its own. "To do that, Israel would have to expand the submarine with its own technological capabilities."
Underwater spies
Both Nassauer and Mommsen agree that Israel's main interest in the purchase of submarines is for reconnaissance and to deploy special forces. "The Israelis and other nations use submarines to monitor ports, or coastal targets and operations, up close," Mommsen said.
Either espionage officers would disembark and swim ashore, he said, or the submarine could simply watch through its periscope. Unobtrusive tracking of ships, hunting enemy submarines or exposing saboteurs are possible application scenarios.
Despite this, Israel has apparently used a Dolphin at least once as an offensive weapon. The British newspaper "Sunday Times" wrote in July 2013 that a submarine of this type had destroyed a missile battery near the Syrian port city of Latakia. There has been no independent confirmation of this report.
The best defense
Nassauer said submarines are much more powerful offensive weapons than corvettes. And Mommsen agrees: "A submarine has the advantage that it can fire while hidden, while the corvette has to assume it will be quickly recognized."
The two experts say the new German ships should offer better protection for Israel's coast and increase the navy's radius of action. But they could also guard gas fields in the eastern Mediterranean. These were discovered a few years ago and Israel intends to use them to reduce its dependent on energy imports.