When Bitcoin was first created in 2009 it was only worth a few cents. Since the beginning of the year though, Bitcoin has seen an amazing 15-fold gain. In another step toward legitimacy, futures trading — actually bets on Bitcoin's price in the future — made its debut on a major global exchange on Sunday after gaining US regulatory approval. That is a milestone for a controversial digital currency that has no central bank backing and no legal exchange rate.
Bitcoin futures surged more than 20 percent on Monday, forcing the Chicago Board Options Echange (CBOE) to halt trading twice. While CBOE said "heavy traffic" caused spotty service on its website following the launch, tight risk limits imposed by banks and brokers prevented all but a handful of investors using the untested futures market.
By late afternoon in London, January 2018-expiry Bitcoin futures were at $17,888 (€15,159) per Bitcoin, off their highs but up from an opening price of $15,000, with more than 3,000 contracts traded. That compared with a price of about $16,350 for buying Bitcoin immediately on cryptocurrency exchanges.
Read more: How do cryptocurrencies like Bitcoin work?
The volume lagged behind in comparison with established currency contracts such as CME's Japanese yen or euro FX futures at the same point on Monday, but was higher than some players had expected. Bob Fitzsimmons, a futures manager at Wedbush Securities described the opening as "quiet" in terms of number of trades, although the flood of visitors to the exchange's website was enough to bring it down.
"Opportunities to profit from such extreme market conditions, akin to the dotcom boom, are rare indeed, but inevitably come loaded with risk," said Lee Wild, head of equity strategy at Interactive Investor. "However, the music may have much longer to play on this one than people think."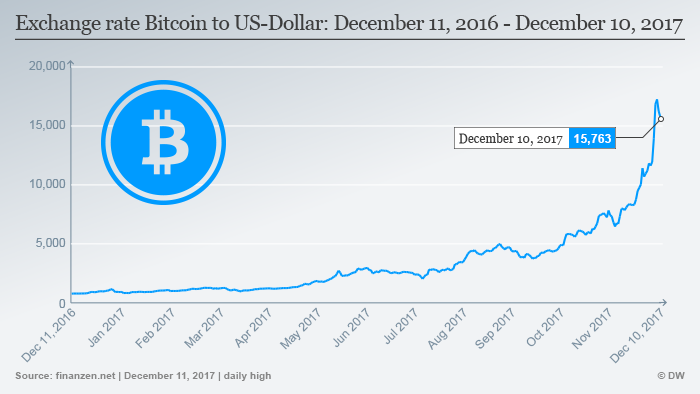 Looking into the futures
A futures contract is a financial product that allows investors to bet on whether a currency's price will rise or fall and marks the first opportunity for professional traders to invest in the digital currency.
The Chicago exchange said it has taken precautions to address wild fluctuations: trading will be suspended for two minutes if the price goes up or down 10 percent, for instance.
Read more: Bitcoin's colossal carbon footprint
Several major financial institutions are still studying Bitcoin and not serving as financial intermediaries. This group includes JPMorgan Chase, Bank of America Merrill Lynch, Citigroup, Barclays, Morgan Stanley and Societe Generale.
Of the larger banks, only Goldman Sachs and ABN Amro are serving as intermediaries for the trades, which means that most of the business will be dominated by smaller entities that are typically requiring larger than usual margin requirements — funds set aside as collateral in case of losses.
The CBOE debut is expected to be followed in a week by a rival listing on the Chicago Mercantile Exchange (CME).
tr/aos (Reuters, AFP)