Mamoun Darkazanli's extradition was requested by Madrid under a controversial new system of EU arrest warrants introduced last year. The aim of the system was to make it easier for terror suspects to be transferred between EU member states and to boost cooperation in the war on terrorism.
But Darkazanli's lawyers are expected to argue before the court in Karlsruhe that the EU arrest warrants are in breach of the German constitution, because their client can be handed over to face charges abroad that could not be brought against him in Germany.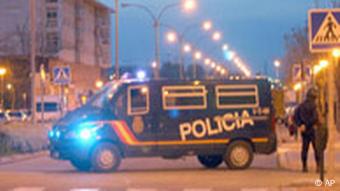 Were the court to uphold Darkazanli's argument, it would seriously undermine one of the bloc's main anti-terrorist security initiatives.
Wider implications
German Justice Minister Brigitte Zypries said such a ruling would be detrimental to German cooperation in the EU's joint fight against crime. But she said she doubted the case would stand up.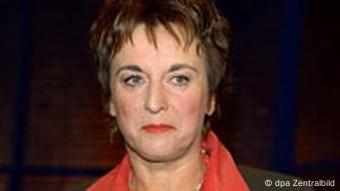 Brigitte Zypries
"I think the EU arrest warrant as a whole is not in violation, and in this concrete case there is even less evidence of that," she told Deutschlandfunk radio.
Michael Rosenthal, Darkazanli's lawyer, said he would argue the measure is unconstitutional because it was introduced under a binding "framework decision" by EU ministers, and the parliament therefore had no choice but to approve it.
"Our constitutional appeal says: That is not democracy," he told Reuters.
Other legal experts believe an outcome in favor of Darkazanli would have wider implications and introduce the possibility of challenges to other EU measures and even to the bloc's new constitution, due to be ratified by parliament this year.
Logistical and financial support
The 46-year-old Darkazanli, a businessman who has dual Syrian and German nationality, has been in custody in Hamburg since last October and will not attend the hearings.
He stands accused by the US of financing al Qaeda and was one of 35 people charged by Spanish judge Baltasar Garzon in September 2003 with belonging to the terrorist network.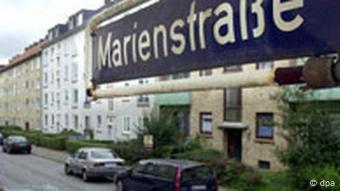 Marienstr. 54 was the base of the Hamburg al Qaeda cell
He has also been investigated by German authorities for links to the Hamburg cell which masterminded and executed the 9/11 attacks on New York and Washington in 2001.
Garzon's charge sheet says he carried out "logistics support and financing activity," including the purchase of a cargo vessel for its leader Osama bin Laden in December 1993.